This is my current dabbling....spinning. Santa likes the idea of getting me a spinning wheel for Christmas. So I thought I had better investigate spinning and give it a try before Santa makes a major investment in my crafting abilities. The first thing I did was contact
Regina of Monster Crochet
(she has knowledge galore about all things fiber) and ask her a few questions about wheels. She gave me her advice and invited me over to check out her spinning wheel. She also told me to pick up a drop spindle as it would help me to learn to draft the fiber.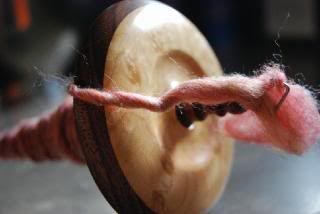 This is a
Kundert Spindle
made of walnut and bird's eye maple. I bought this beautiful spindle at
A Mano Yarn Center
. Last Thursday I brought my spindle and some roving to Stitch 'n Bitch and Regina got me spinning in like 5 minutes. I was making yarn in 5 minutes. What?! It is nothing short of miraculous this whole spin-a-majig thing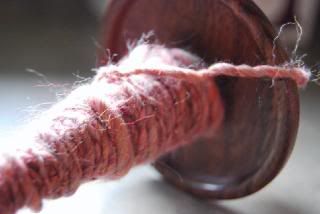 I practiced like my good teacher told me to.
On Sunday I went over to Regina's to try out one of her spinning wheels, a
Lendrum DT
. It was a crafting party as
Jenna
and Jenny were there to sew up some mittens out of a recycled cashmere sweater. They turned out super cute. Everyone brought a little bit to eat and Regina made an amazing quiche. She showed me how to set up the wheel, got my fiber going and showed me what to do. Then I got a turn at the wheel. I was uneven in my treadling and uncoordinated in getting the hands drafting at the same time and I had way too much twist in my fiber. Still, I was spinning. I was making yarn!!!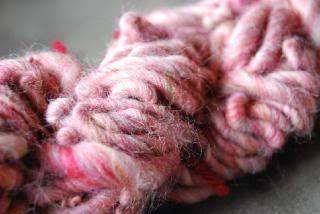 The fruits of my labor. Can you believe it? I can't. I cannot believe I produced a little skein of yarn in so little time. Like in an hour. Yarn!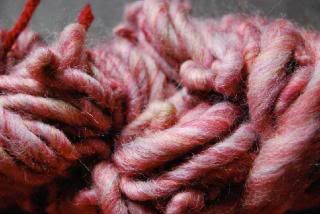 If anyone would like to throw their two cents worth of advice about spinning and spinning wheels, please share. I am anxious to hear about everyone's experience in the matter.
Even so, I think I know what Santa is bringing me for Christmas! Oh boy! Oh boy!!! I can't wait for Christmas!