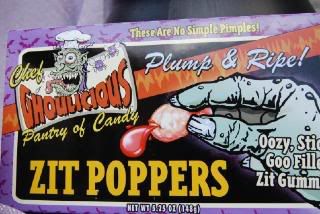 Don't you want some of these candy zits in your trick or treat bag? When I saw these at Target I could not resist putting them in the prize bag. So gross!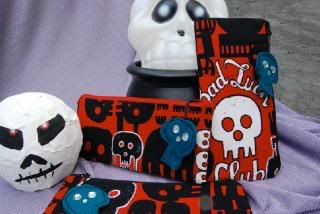 I made some zippered pouches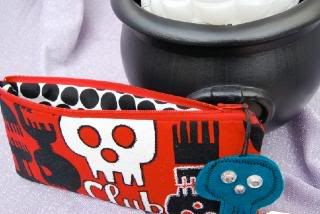 with polka dot lining
and skully pulls.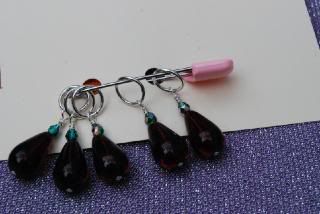 Plus some stitch markers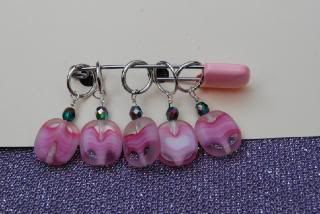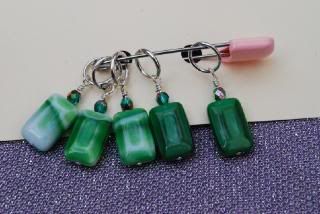 Ellen
, my co-pilot of FUN, contributed DVD's, yummy yarn, and an additional small zippered pouch. With that, the prize bags were full and ready for Stitch & Witch 2008.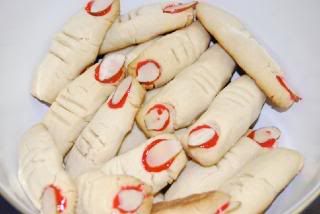 Yum! Severed fingers are quite delightful with a delicate crunch. I prefer to chew off the finger nails first. How do you eat your severed fingers?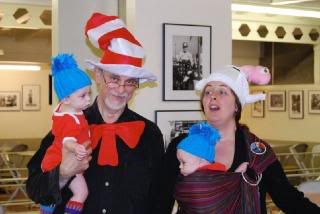 Thing 1 & Thing 2 dropped by with the Cat in the Hat & the
Fish
.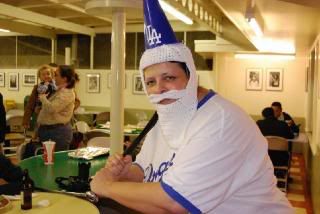 Gnomar
was at bat.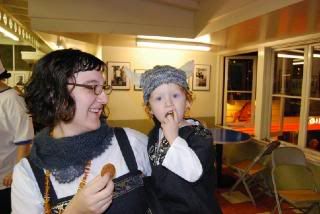 The
Vikings
had pillaged the cookie bowl.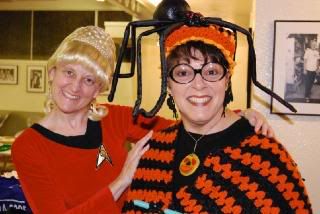 Yeoman Rand &
SPIDER GRANNY
!
Spider Granny, Spider Granny
She will knock you on your fanny.
Crochets a web with her hook
Don't give her a dirty look!
Watch out, watch out, watch out for Spider Granny!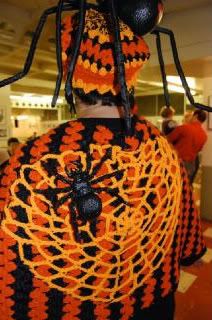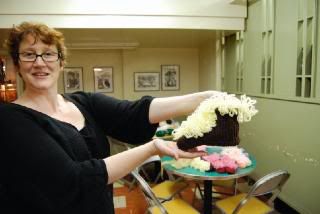 Faith
as
Carol Merrill
. Let's make a deal for the slippers.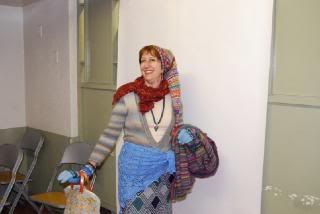 Leah as Ravelry.
We had some celebrities stop by.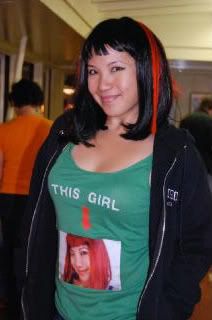 Bai Ling
stopped by.
(Really it's Catherine)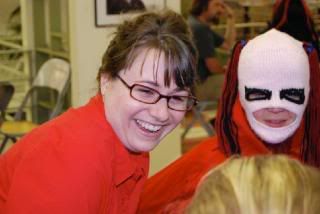 Sarah Palin
stopped by and was working the crowds.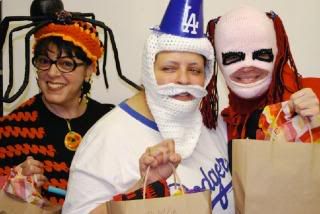 The WINNERS!
Best Use of Yarn: Spider Granny
Most Original: Gnomar
Weirdest Super Hero: Hola Gattito el luchador
Here is the easiest, most delicious recipe for the season.
PUMPKIN FLUFF
1 container (16 ounce size) frozen whipped topping, thawed
1 box (5 ounce size) instant vanilla pudding mix
1 can (15 ounce size) solid pack pumpkin
1 teaspoon pumpkin pie spice
In a large bowl, mix together instant vanilla pudding mix, pumpkin and pumpkin pie spice. Fold in the thawed frozen whipped topping.





Chill in the refrigerator until serving.




Serve with crisp ginger snaps.



I prefer the Triple Ginger Snaps from Trader Joe's. They have a lot of snap and spice and taste delicious dipped in Pumpkin Fluff. Try it. You cannot go wrong with this recipe.



HAPPY HALLOWEEN!