The hubby has been back in the kitchen baking bread. This time it was Italian Bread from Peter Reinhart's
The Bread Baker's Apprentice
.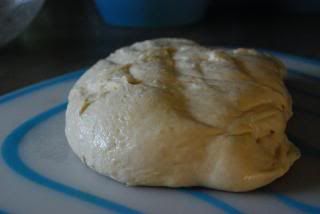 This is the biga, which is a pre-ferment for the bread.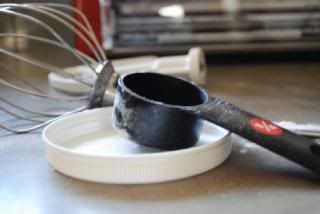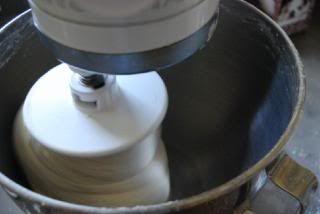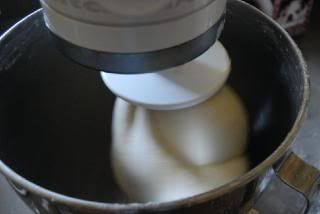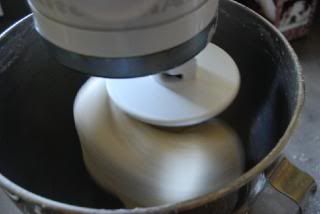 The results were delicious.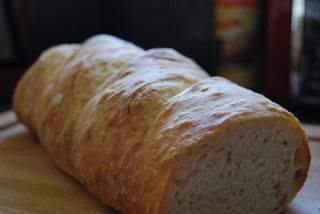 This bread has a softer crust than the usual French bread loaf. It was fantastic for sandwiches, which happened to be leftover eggplant parmesan from the night before.
The baked eggplant parmesan
recipe
came from good old
Martha Stewar
t. I made my own sauce and used panko bread crumbs instead of the usual bread crumbs. I love the crunch of panko bread crumbs. I also used very small eggplants not the usual giant purple globes and cut them pretty thin, so they were almost like eggplant chips when they finished baking. Some were a little burnt and I thought I had ruined dinner. Eggplant parmesan takes some time to prepare, especially since I made sauce too so I was a little bummed out with my crunchy eggplant chips. But after baking in the sauce and cheese they perked up and had delicious flavor. Dinner was great with a mixed green salad.
Lunch was darned tootin' fabulous on the fresh bread too.
Other fantastic news is that the hubby is going to be a recipe tester for
Peter Reinhart
's next book. I won't be able to divulge anything until the book comes out, but the hubby is very excited to be a part of the process of developing and trying the recipes.