On the knitting front, things have been a little frustrating. I have a queue of projects a mile long, piles of yummy yarn taunting me from every corner and WIP's longing to be finished. I have been swatching for a couple of projects but dang it if the gauges are not quite matching up to pattern.
This is the swatch for
Ingenue
by
Wendy Bernard
in her new book
Custom Knits
.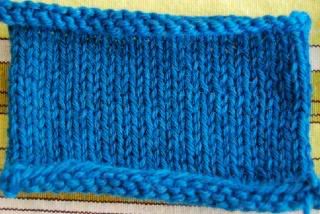 Yarn: Cascade 220
Color: turquoise 2433
Needles: Size 9
17 sts/22 rows = 4.25 sts/in.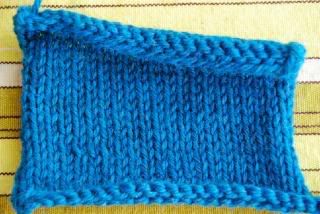 Needles: Size 8
19 sts/22rows = 4.75 sts/in.
I have the right row gauge but the stitch gauge calls for 4.5 sts/in. I am in between sizes on the pattern so I am going with the larger needles. My extra Options needle tips came in so I can cast on for this.
The swatch is for
Dr. G's Memory Vest
.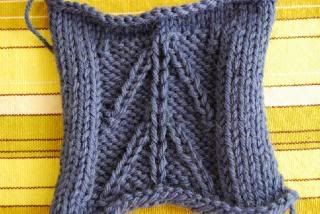 Yarn: Cascade 220
Color: Blue
Needles: Size 8
Swatch: 19sts/24 rows 4.75sts/in
The pattern gauge is 21sts/28rows in cable stitch pattern. I was a little confused by which cable pattern to use as there are 3 charts in the pattern so I chose the tree chart. I need to go down to size 7 needles and give the swatch a try. But I ran out of steam and wanted some instant gratification.
For fast knitting you can always turn to baby hats.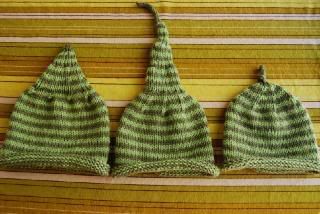 Yarn: Cascade 220 superwash
Colors: green & green
Needles: size 7
All the hats are from
Itty-bitty Hats
by Susan B. Anderson
(from left to right) The Jumping Child (sans child), The Candy Cane, and The Simple
From 2 skeins of Cascade 220 superwash I was able to make four baby hats. This was leftover yarn from a project I did last year. I also think I have worked out the jogless jog in the striped hats. I got this
link
for the jogless jog from the
Brooklyn Tweed Turn a Square
pattern.
More babies are coming. 4 to be exact. One baby will live in New York and twins will be living in Portland. Yeah our other good friends are having twins. It was a shock to them too. Cookie and Kiss are getting their first cousin who lives in North Carolina. Yay for hats. They are fun, quick, and satisfying.