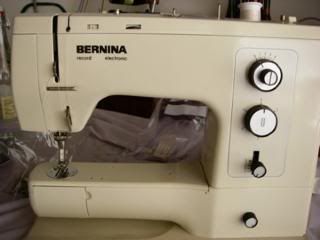 Lucille is a Bernina 830 that I picked up a couple of weeks ago. She was posted on the SnB group and I was intrigued. I read more about Bernina 830's
here
.
Here's a great quote, "
The Bernina 830 is one of those rare and happy mechanical occurrences where the manufacturer simply got everything right (kind of like a 1957 Chevrolet!). These metal and mechanical marvels purr along as smoothly today as when they first left the dealer showroom.
"
An email was sent out to inquire more and, well, here she is.
Her former owner & I found out we were kindred spirits from yoga practice, years long dissertation struggles (she finished! It can be done.), to dachshunds. In our half hour encounter, we never even got to talking about sewing and knitting, except about the sewing machine. She only had Lucille about a year and hadn't been sewing in the last 4 months and never had any troubles. She did mostly quilting on her. I took Lucille home. The name came to me on the ride home.
Lucille got a check up at
Tanner's Sew N Vac
She had a little gunky spot that stuck her on the straight stitch but she is ready to run. Johnny told me while the paint might be faded a bit on the outside, her motor was pristine and like new. YAY!
Lucille, welcome to your new home!