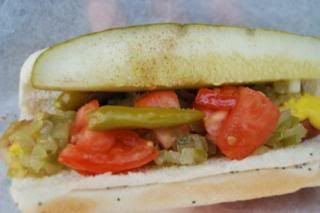 This is a Chicago style hot dog, which consists of an all beef hot dog on a poppy seed bun topped with mustard, onion, sweet pickle relish, dill pickle spear, tomato wedges or slices, peppers, and a dash of celery salt. We opted for one sans onions. It is super delicious but messy. We hear the best place for a Chicago style dog is either
Gold Coast Dogs
(on Wabash) or the Weiner's Circle (near Lincoln Park).
Both of these locations were north of where we were staying. The Air and Water Show was going on this past weekend in Lincoln Park. The hordes of humanity were moving in that direction so we rented bikes and went South. We still managed to be impressed with the jets flying overhead.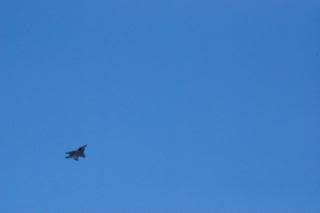 UP,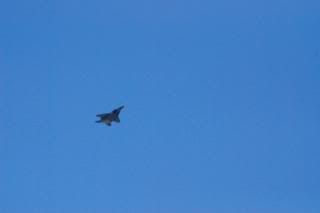 UP,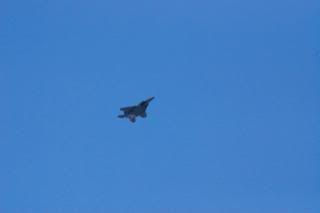 and AWAY!
four in formation
stealthy stealth bomber, which was much more impressive in person.
Of course, this song was going through my head the entire time I road my bike along the shores of Lake Michigan. Please press play and enjoy the following photos.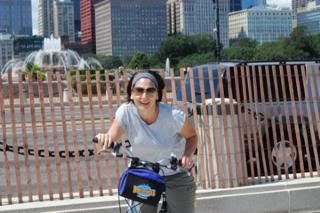 And we're off...
Along the shores of the deep blue lake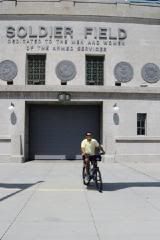 a stop at Soldier field.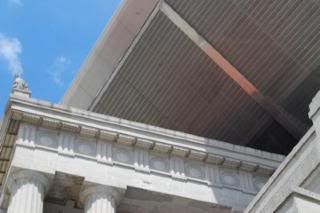 the new stadium rises out of the old...impressive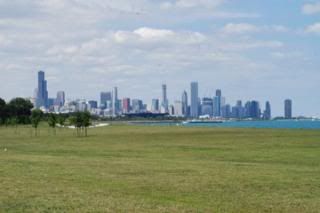 we went this far and turned around.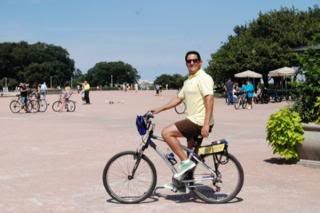 the hubby looks cute on his bike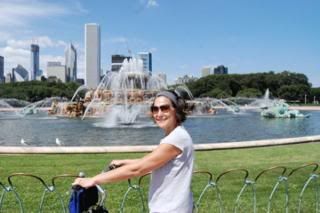 Buckingham Fountain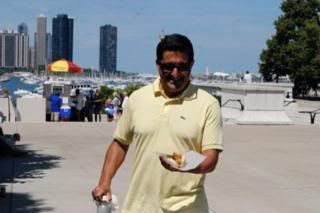 the hubby looks even cuter delivering a dog.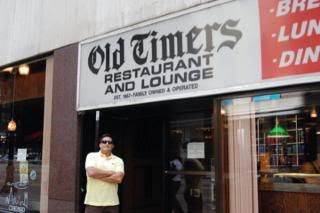 The Old Timers (Lake & Michigan) is a great place for yummy pancakes and a mean breakfast club sandwich. Yeah, a club with egg, bacon, lettuce, tomato stacked on three high toast. De-lish!
For the serious foodie, you have to try
Avec
. This place is so good we ate there two nights in a row. They do not take reservations, the place is small and there is always a wait. On Thursday we went at 10pm and had no problem getting a table, which you often share with other patrons. On Friday night, we arrived at 10pm but we weren't seated until around 11pm. Yes it is worth the wait.
Thursday's dinner

Antipasti

Peaches with pancetta vinaigrette, celery & pine nuts
Peaches with corn vinaigrette, basil, corn, chili flake & haricot vert

Large plates
Rasmussen cheese curds, sausage, fennel, apple & arugula pizza
Wood oven-roasted half chicken "panzanella" with bread, heirloom tomato, kalamatas, golden raisins & mint

Wine
Il Brecciarolo 2003

Dessert
Polenta cake topped with tart cherries & creme fraiche
The antipasti was absolutely refreshing, inventive and full of flavor. Peaches and corn? Peaches and celery? It sounds like two strange combinations but they were very, very good. It totally opened my mind to how fresh and fun a summer salad can be. I can't wait to get to the farmer's market this weekend to try my hand at recreating them. Now, let me wax poetic about the pizza and the bread. The bread comes hot to the table and has the most buttery and creamy flavor and texture without any actual butter. I believe the pizza crust is from the same dough and makes a delicious thin, yet bubbly, wood fired crust. The Rasmussen cheese curds come by way of a farmer in Michigan who has five special cows. The cheese melted to a consistency of hollandaise and was super creamy. I love sausage and fennel on a pizza. It's my favorite pizza here at home, courtesy of
Cheebo
. But the addition of apples, arugula and a peppery vinaigrette was sheer genius. This was a transcendent pizza. The chicken was very moist and flavorful, surrounded with bits of chewy bread, tasty tomatoes and olives. Can this dinner get any better? Oh yes it can with polenta cake for dessert. I have to admit I am not a fan of polenta. Polenta seems like a food stuff that would be right up my alley, but I am not crazy about it. This polenta cake was impressive to my not so lovin' the polenta palate. It was a sweet and crusty cornbread but with amazing savory aspects like a hint of rosemary and salt. The tarty tartness of the cherries and the sour taste of the creme fraiche created a perfect balance. I could have licked the plate. The wine was a mix of montepulciano & sangiovese grapes. It was a perfect, drink everyday type bottle of wine.
Friday's Dinner
Antipasti
Cauliflower, ancho chili, pine nuts & pancetta vinaigrette

Small Plate
chorizo-stuffed madjool dates with smoked bacon & piquillo pepper-tomato sauce
pan roasted flank steak with rapini, roasted corn, lima beans & smoked paprika butter

Large Plate
"deluxe" focaccia with taleggio cheese, truffle oil & fresh herbs

Wine
Il Brecciarolo 2003

Dessert
Raspberry sorbet with shortbread cookies
The antipasti was not as exciting on Friday as it was on Thursday. Cauliflower is not my favorite veggie but I thought maybe they could change my mind. Not so much. However, the stuffed dates were out of this world. Really out of this world. The steak was a great combo with the bitterness of the rapini and the sweetness of the corn all yummy in smoky butter. Now I have already describe how good the bread and pizza was and the focaccia did not disappoint. This is a definite must try if you visit the restaurant. We had the same wine because it was great and affordable ($38). We went a little lighter for dessert and it was perfect. The sorbet was light and not too sweet, with thin, tasty shortbread cookies for crunch.
This is a great place to eat. It is very hip and small, which translates to loud and tightly packed. You do have to wait to eat so don't come too hungry. It is completely worth the wait.
Now if you want the best gelato in Chicago you gotta get outta town to Cicero.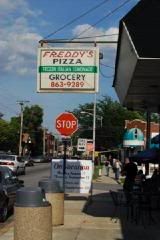 Freddy's Pizza & Grocery
1600 S. 61st Avenue @ 16th Street
Cicero, IL
It's about 20 minutes from downtown in what used to be the Italian neighborhood but seems to be in transition with Elena's Tacos across the street. Was this the best gelato in Chicago? YES! YES it was. In fact I haven't had gelato this good since I was in Italy last September. No joke. There is not a great gelato place in LA. I tried them all when I got home. They all lack the remarkable creaminess of gelato. Freddy's had it hands down. So good and brought back a flood of memories from last summer. That's how you know something is good. It takes you places. We also tried the pizza. It was Chicago style pizza, which means deep dish. But it was not too deep and had an amazing sauce. If I could have I would have tried the Italian ices because they looked and smelled amazing. But you can only stuff yourself so much. Lord knows I tried. Why do you think we went on a bike ride?! We certainly did our best tasting our way around Chicago.
We wanted to check out this place...
but we never made it.
We had to leave something to look forward to the next time we visit Chicago.