The United States is a beautiful place. We have amazing cities like Chicago, which offers lots to explore and do. But drive out of the city and there is land to behold. We got a chance to head up to Wisconsin. After navigating out of the city we hit I-47 N and out of the city.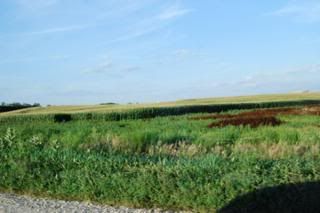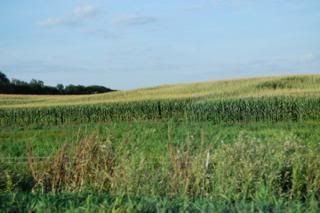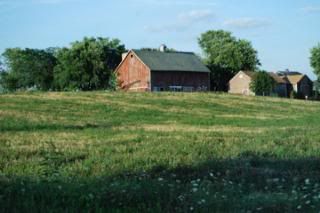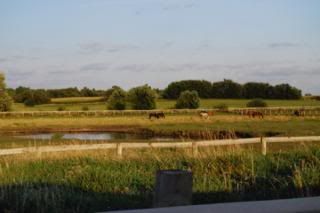 Gorgeous, right? Rolling green fields of corn, quaint farm houses, red barns, horses, ponds and wildflowers dotting the landscape. It makes you have a conversation with the hubby about if you could live in the country. We lived in Raleigh, NC but it was a definite suburban experience even though we were surrounded by lots of green country & loblolly pine trees & had a creek running through the backyard. I sometimes think I could when I think if I had a country house I could have a herd of dachshunds, a craft room, and a barn to stow my stash and the peace and quiet to make things. Nice fantasy until I need to eat a gourmet meal like at Avec or I need to run to Michael Levine's to buy some unneeded fabric.


*POP*
dream over.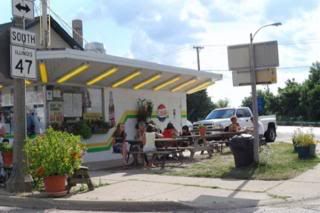 Then you drive by the small town Frosty Freeze &
*POP*
fantasy back on. Ice cream always does the trick. You can't see the sign in the tiny picture, but in the window it says, "Keep the summer alive,
EAT HERE
." The summer was alive and well with loads of people enjoying a taste of summer and the perfect weather.
The fantasy was alive and well when we arrived at a very cute house where the family of Cookie & Kiss have gathered for the week near the shores of Lake Geneva. (Really the lake was a mile away but that's a small detail.) We were all enjoying each other's company (8 adults & two adorable babes), catching up & having fun, watching some Olympics. I was stretching, doing a couple of
chaturangas
and
downward dogs
when I noticed some movement in the carpet. I thought it was a spider, but no, the horror...it was a TICK! Ticks freak me out!
*POP*
fantasy over.
File in memory banks...not to move to country. Ticks live in the country, along with chiggers, and other nasty beasts. Yep, the city girl comes shining through in full force when faced with a prehistoric insect that sucks blood.
I am sure the party that was responsible for bringing a tick into the house were one of these two rascals.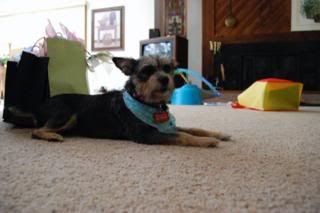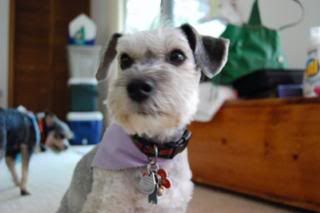 Meet Maddie & Maxx. These are Grandpa & Grandma's pups. Maddie is a scruffy new addition that was rescued about an hour before the gas chamber opened. Close call for such a cutie. After the tick incident we had a good long talk with them about not bringing hitch hikers into the house. They said they would try but that the hitch hikers could be very persistent in these parts. We told them all about stranger danger and the dangers of bringing strangers home so they agreed to leave hitch hikers at the curb.