Yesterday I was at my friend Ellen's house. After she poured me a cool glass of lemonade she gave me the perfect crocheted coaster to put my glass on. Since she is the crochet queen, she gave me a quick break down of the coaster before I left. I got home and got to work before all the double crochet goodness left my mind completely. This is what I remember.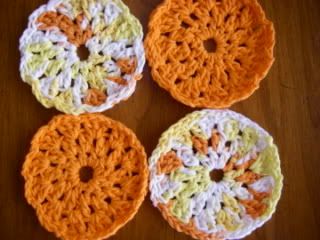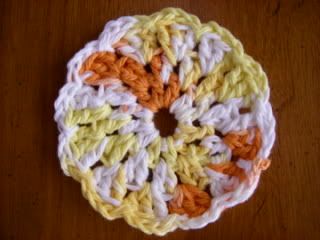 I am a novice crocheter so my instruction are not up to crochet standards, but this is what I did.
I chained 8, slipped stitched to join the circle.
Chained 3, and double crocheted 11 times into the center, slip st to join circle
Chained 3 and double crocheted 2x's in between each double crochet all the way around, slipped st to join round.
Chained three and double crocheted 3x's into space between the two double crochets, all the way around, slip st to join round.
Chained 3 and slip stitched into each space between the 3 double crochets and then joined round with a slip stitch.
Ta-dah! That's it.
Ellen's had a fancy picot edge but I could not really figure that out and watch the
Next Foodnetwork Star
at the same time. They turned out well just the same.
Today she sent me a
link
for another coaster.
This one to be exact.
I left off the 4th round because it was getting too floofy and big for a coaster. This is a reworked 1893 circle motif pattern. Isn't that cool? The old gal works up and looks great.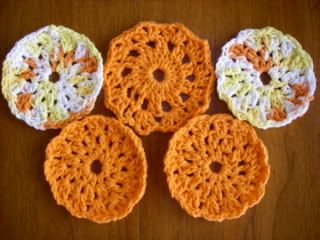 Gold medal coasters! Really it's Hot Orange and Creamsicle in Sugar & Cream. This is fast, fun, and functional.