The continuation of Alberta Street: the craftiest street in Portland.
After my foray at Artfibers I needed some new needles in anticipation of casting on my mystery cardy. Plus I am working on the FLS and after doing my yoke increases was ready for some longer circulars. The 24-inchers were not cutting it. I had planned on visiting
Knit-Purl
later in the day after my trip to
Bolt
. But, to my great surprise as I walked up to Bolt, there was a yarn store right next door. So after making my fabulous purchases at Bolt I knew where I was headed.
Second stop:
Close Knit
2140 NE Alberta St. @22nd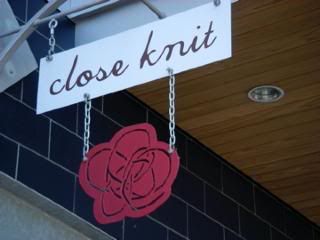 This is a fully stocked with delicious yarn place to shop. You can find all your favorites here. They even had the
Dream in Color
, hand dyed yarn that some people are using for their FLS's. I had a great conversation with the owner, a lovely woman, whose name has completely escaped me and I thought I had her card too. Well, poo. So much for my memory.
There were lots of tempting yarns, which I managed to resist since I had 1100 yds of dreaminess in my suitcase. I did pick up 3 pairs of needles and two books.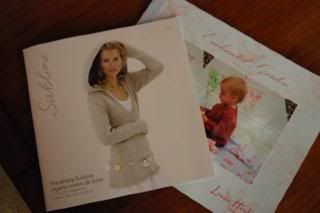 One book is
Sublime (611
).
Sublime
is the organic cotton dk line from Sridar. The other is
Enchanted Gardens
by
Louisa Harding
.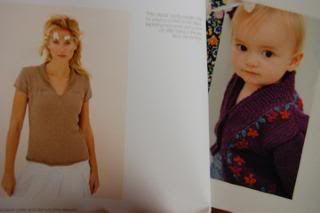 There are lots of great patterns in these books. These two are my favorites.
Now, my choices were to go to the bus stop or wander down the street and explore. I chose to wander and see what other little gems the street had to offer.
Third stop:
Tumbleweed
1812 NE Alberta St. @ 18th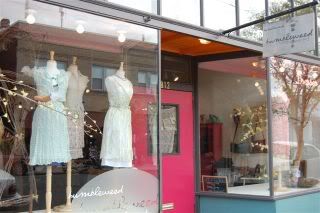 Pretty, pretty dresses in the window caught my eye. My curiosity dragged me inside. A lovely, lovely shop filled with dresses of the owner's design called
Kara-line
. The shop carried other labels mixed in with her beautiful dresses. Beautiful summer dresses are hard to resist. I really couldn't resist this one.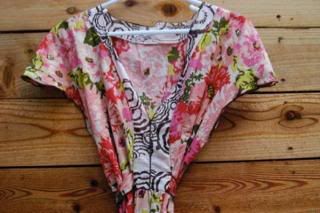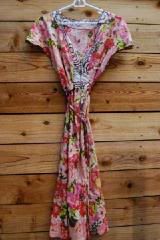 This dress is so lightweight it hardly took any room in my suitcase. Kara also owns the children's boutique next door called
Grasshopper
. I didn't know this at the time, but I will definitely make a stop there next time I am in town. While I was in the shop there was a conversation about the amazing pie at the corner café. It was getting late and I was due to meet the hubby soon so I skipped pie. I know, what the heck was I thinking! This time I was determined to get to the bus stop. I crossed the street. Stood at the bus stop. Looked up the street, no bus yet. Looked down the street into uncharted territory and saw a sign. I had to take a closer look.
Fourth stop:
Collage
1639 NE Alberta St. @ 17th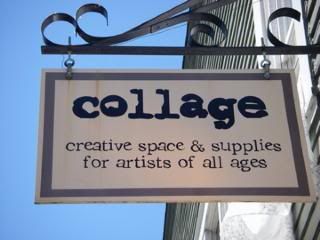 This
store
has everything from canvas to papers, to stamps & paint. They even have a
diy lounge
in the back of the store for classes in craftiness. This was an awesome store. I just spent a few precious minutes perusing although I did manage to find a couple of things. I'm a girl that loves a good stamp or two. The hubby sent word that he was back at the hotel, which was my big incentive to finally get on the bus.
If you love fabric, fiber, or paper this street has got you covered. The businesses are independently owned and operated. All the stores I stopped in were owned by women. There is not a chain store in sight. There were lots of other interesting storefronts that I passed on my wanderings. Next time I will spend more time wandering down NE Alberta Street. Maybe I will try the little Italian place across the street from Close Knit & Bolt. I know two things for sure will definitely return to NE Alberta St. and stop for pie!