Whew...another sewing project completed.
Here are the place mats and napkins I made for my
swap partner
.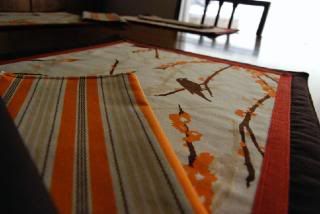 The napkins are reversible because it seemed an easier solution to me than turning over tiny edges and sewing them down. Plus they have a little more heft this way. I love the sparrow fabric. This was a stash busting project. Both the sparrows and the stripes came from my stash. I love the cherry red twill tape against the dark chocolate background fabric. I did have to purchase these from Michael Levine's (my happy place).
This project was harder than I thought it would be. I thought these mats would whip up rather quickly but it was not the case for me. Plus I had the added pressure of being late on the deadline due to my didge work. Sewing the mitered tape was some kind of personal hell. Any amount of day dreaming or blinking or trying to watch the telly resulted in going off the rails. It was madness, although after the first two it did get better. I actually made five sets but four photographed better.
As I was doing my happy dance for finishing the project the mail came and so did my new placemats.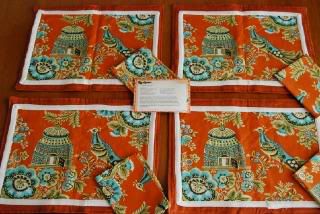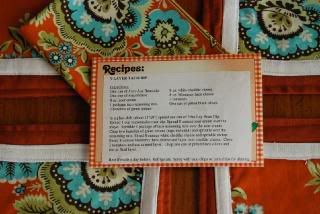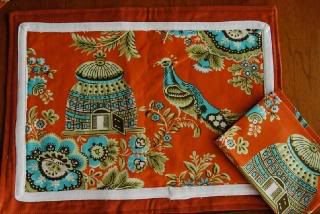 I LOVE THEM! The fabric is fabulous. I love turquoise and orange together. It is one of my favorite combinations! The peacock print is gorgeous and is right up my India loving alley. The background is a beautiful rust linen. My
swap partner
is awesome. She really hit the nail on the head. She shoots! She scores! I scored! Really I did. Plus she sent the recipe for 9 Layer Taco Dip. Yum! This recipe screams summer BBQ. Invite me over and see what I bring.