Let me tell you the adventures I have had visiting two crafty lands. On the map they are known as San Francisco & Portland. It all started as a tag-along to hubby's business trip. We got up at 4am on Thursday to catch our flight to San Fran. Normally I would be very grouchy at this hour but I had big plans and I was clapping *Hercules! Hercules!* excited.
Upon arrival we went to Chinatown to get some dim sum, but we were way too early to get our dim sum on. The people of Chinatown sleep in late and you can't get dim sum until around 11am. We had to go to a café across the street from Chinatown instead.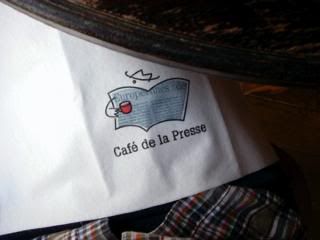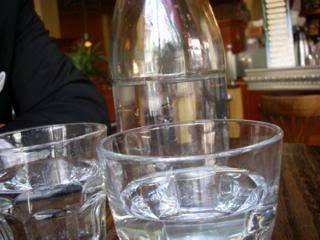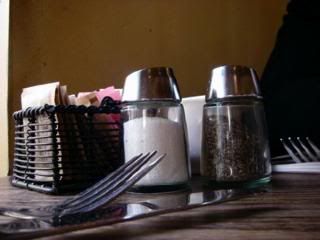 If you happen on this café just opt for a café au lait and a pain au chocolate. We both had comme si, comme sa omelets. Too bad.
However, now that I was adequately fortified I was off to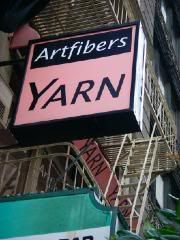 Yes
Artfibers
!
Cookie & Kiss those two adorable rascals I call my god children...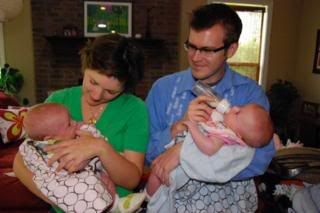 (here they are with Mom & Dad) got me a gift certificate to Artfibers for coming to take care of Mom & Dad after they were born. Those kids are so thoughtful. I took them to their
first yarn store
, you know.
Artfibers has beautifully special yarn with gorgeous colors and fantastic mixes of fiber.
After a couple of hours I settled on a beautiful blue yarn called
Kyoto
(69% silk/25% super kid mohair/6% extrafine wool).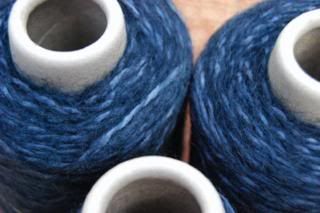 I love the color. One of the services that Artfibers provides is that they will customize a pattern to your measurements and your swatch gauge. Genius. My wardrobe lacks an all purpose cardigan so I had them magically put together a cardy to my specifications, which they printed out for me. How the pattern will really turn out is a mystery because there is no picture just imaginings on printed paper.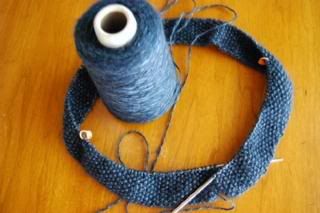 I cast on yesterday. This is the bottom moss stitch band of the sweater. I will keep you posted on the mystery silk cardy.
The hubby collected me from the yarn store and we flew off to Portland. We arrived just in time to shower and go to dinner with a client at
Three Doors Down Café
This neighborhood cafe is located in the Hawthorne district. GO to this Italian restaurant. You will not be disappointed. The food is sooooo good and so are the drinks. I ordered a Ginger Rum Swizzle. This is the perfect refreshing summer drink. My dinner started with arancini di riso. This is one of my favorite Italian things to eat. They can go terribly wrong but these were all things good with a crispy crust outside filled with creamy risotto inside. My entrée was prosciutto wrapped halibut on fresh succotash. Perfectly cooked fish on top of the sweetest succotash with each corn kernel bursting with flavor. YUM! Dessert was a full on tasting with Banana Cream Pie (raving mad delish), bocca negra (chocolate heaven), and the cannoli (very good with a hint of orange). There was a great local pinot (can't remember what it was) and an incredible Kracher Sauterne with dessert.
What an incredible Thursday, but just wait until I tell you about Friday!