Before I kicked out of the Knitter's Union, I thought I better post about something on the needles.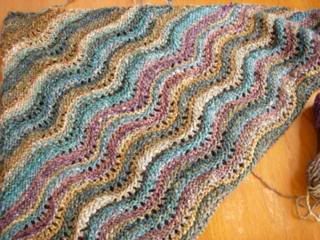 This is the
Feather and Fan Comfort Shawl
. It is still a work in progress with maybe one skein to g0. The yarn is Noro Silk Garden and, boy, is it lovely. This is my first real big outing with Noro and now I know what the Noro mania is all about. I find the Kureyon pretty scratchy but the Silk Garden gives you the fabulous colorways without the scratchiness. My inspiration for the shawl came from
through the loops
If you are into sock patterns you have to check out Through the Loops. Really, you sock knitters go there
now
What I really want to talk about is my new needles.
Yep,
Knit Picks Options
They are great. I am a big fan of the Addi's but I was needing lots o' needles lately and that adds up.
Carlita Dee
bought some Options and told me I needed to get some. She is wise in these matters so I got my Options. I LOVE them. Really and truly.
The tips are sharper than the regular Addi's, which makes knitting faster and easier. I started this shawl on Addi's and then switched over to the Options on a 60-inch cable. Whoa, there was a noticeable difference in the ease of knitting due to the fabulous tips. You can also buy extra needles and cables for the sizes you use most. No more switching out projects to stitch holders when you need that size 8 needle, just snap on the extra needles to the extra cable and start knitting. It's genius!