Where have I been? I am getting ready for the West Hollywood Stitch 'n Witch Halloween Party. It is tomorrow night. Yikes! Thursday October 30 from 7-9pm at the
Original Farmer's Market
. The house is a complete wreck with sewing and crafting supplies everywhere. I am busy making the prizes for the Costume Contest.
Here are last year's winners.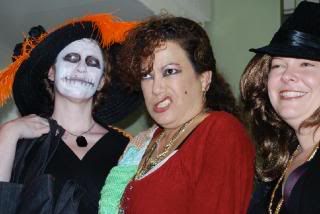 Faith
, Denise, and
Laurie
Here are last year's prizes.
Totes filled with yarn and other goodies.
There was a Day of the Dead theme.
Good costumes, right?
This year the special costume category is Weirdest Super Hero. Plus Most Original & Best Use of Yarn. I can't wait to see what kind of creative kookiness comes to the party. Everyone has great spirit, as you can see.
********************************************
I am interrupting all this fun for an important service message.
Here is some information from a UCLA Law Teaching Fellow regarding the
question of marriage being taught in California schools, for those who
are or know someone who is concerned about that issue and have seen
the TV ads:
http://jurist.law.pitt.edu/forumy/2008/10/scare-tactics-children-in-battle-over.php
.
*********************************************
Thank you for reading and indulging my political moment there.
Are you ready for Halloween?
What are you going to be this Halloween?
Please share.
Obviously I have a lot to do and have to crack the whip on myself. How fun!
Mwahhahahahamwahahaha