Before I left for Houston I had to get my postcards done for the
Gocco Postcard Swap
. This was my first dance with Gocco and I have to tell you it was mighty satisfying.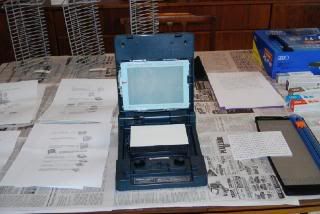 Setting up.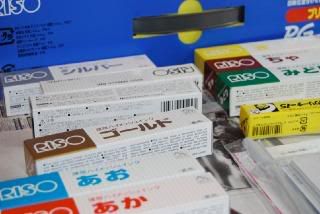 Inks
It looks like a frosted cake. I love it. All inked up and ready to print. Oh the suspense of how it will turn out.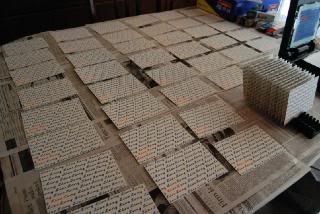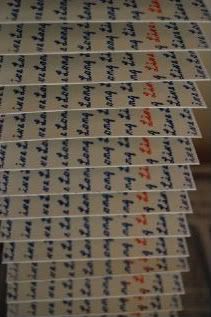 There is something about the repetition of printing something over and over that is really soothing. Also seeing your own creation come to fruition in a massed produced way is really gratifying. This isn't the finished postcard but I don't want to spoil it for anyone in the swap.
Here are some things I learned.
Use a clear font without small details. I liked the water color postcard I used but I think a smooth card stock would have produced a finer print. I didn't have the ink blocking foam, so the ink color does spread over numerous prints. When I encountered this moment in the printing process I had to let go of perfection and just engage in the process. The most difficult part in the whole activity was coming up with the design. I had the idea and I could see what I wanted in my mind but drawing is not my strong suit. It took me 4 or 5 hours of drawing to come up with something that I liked and this was after doodling for a few days. The next time I do a postcard I will do a postcard style print on the back side. I figured this out after viewing some of the other swappers work who did this and thought it was a great touch to the postcard.
Hurry up, postcards and get here soon!
I am so excited to see what all the other peoples do.