How do two lovebirds spend the night of their anniversary? They go to the
L.A. Eyeworks
Sale and get spectacles so we can see each other clearly. Last year, we both turned 40 and had to get glasses for the first time in our lives. L.A. Eyeworks makes the most fun glasses and have tremendous prices once a year. If you are going to wear glasses they might as well be fabulous.
I picked this pair up last year.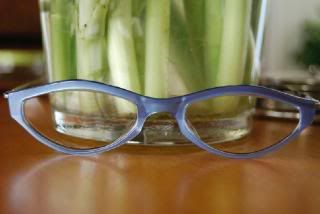 I call them my Church Lady glasses. I see a matching powder blue outfit, including hat with these pearly specs.
Apparently there is something about blue glasses and me.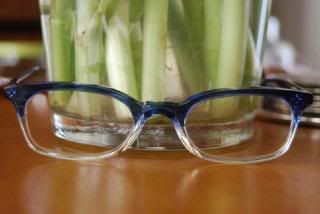 These are my blue nerds. I'll wear these for all my science projects.
Then I needed to indulge my cool side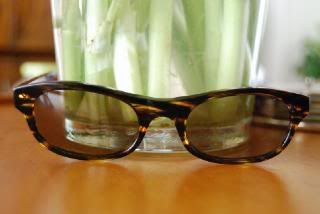 with these retro sunglasses. When you see me wearing these the top will be down and I'll have a red chiffon scarf in my hair blowing in the wind. Catch me if you can.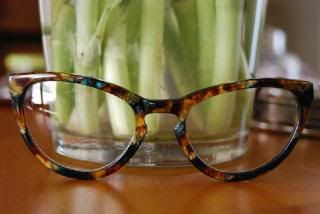 These are for my alter ego...Cat Woman. These are mondo cat eye glasses.
The hubby got in touch with his inner nerd too.
He got another pair too, which I call the Peter Sellers, but he already took those in to get his prescription.
Originally we wanted to get out of town for the weekend but it just did not work out that way. Instead we stretched the celebrating over the weekend. We had loads of fun at the Sale. It is really more than a sale. It's where a community comes together. The store has a party feel with everyone helping out those around them with opinions and styles. You can spend a good couple of hours discovering and trying on glasses. It's an event and lots of fun.
Saturday night we went to dinner at one of our favorite restaurants
Angelini Osteria
. I had the most delicious lobster and peach salad. This was followed by the lasagna verde. Really superb lasagna. Yummy-ness. Then to a new bar, we still don't know the name, and had a drink and hung out for a little while. Today, we went and had Thai massages at the
Raven
. Here we were walked on with our muscles and bodies being pushed and pulled until those tight muscles were beaten into submission and we were freer versions of our former selves at the end of our session. I anticipate the most deep and restful sleep tonight.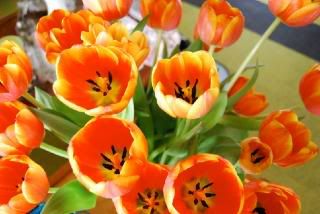 Joe brought me flowers on Friday night. He looked so cute riding up to the house on his bicycle with a basket full of posies. I fell in love with him all over again.
Thank you for all you good wishes.