Here are Kiss & Cookie's Christmas presents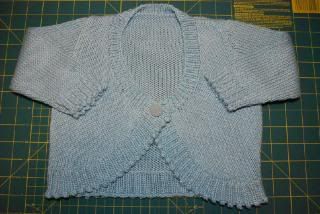 This little cutie sweater is from Baby Bamboo Knits (323) by Sirdar. It has the very creative name of Design B aka Round-edge Cardigan. It was knit up in Snuggly Baby Bamboo DK, which is 80% bamboo and 20% wool. It knits up beautifully and has a wonderful sheen to it. This baby sweater was not the easiest sweater and I would not do it again. It was knit in five pieces. The picked up edges for the border were also done separately and then you pieced it together. A lot of work for such a tiny sweater. But I am very happy with the way it turned out.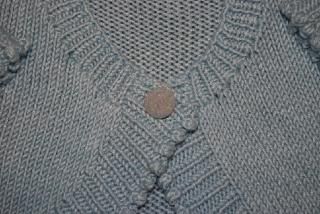 This isn't the best picture but the button looks like sugared candy. It was the perfect touch for sweet Kiss.
This is the
Owl Baby Vest
for Cookie
The pattern is free on
Ravelry
. It is totally cute, cute, cute! It was also knit up in the Baby Bamboo. This was a fast knit and I totally recommend the pattern.
Then I found plaid pants at
Janie & Jack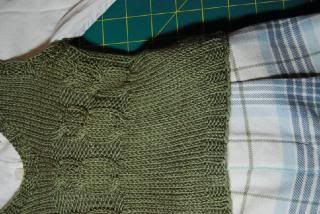 that had a matching green stripe in it. What luck! Cookie will be quite dapper with preppy set at the playground.