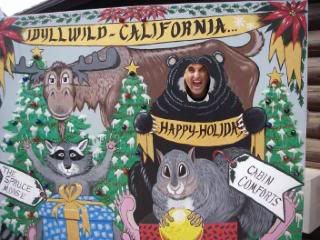 We got away to
Idyllwild
for Thanksgiving weekend.
The holiday traffic on Wednesday afternoon was a killer. The 117 mile drive should take about 2 hours but it was a slow 4 hour drive. The drive up the mountain was in a big cloud, with lots of fog and rain. Plus it was dark. It was a terrifyingly fun drive.
We found the rental company and got the keys. Found the house, unloaded the car, fed the dogs, and went back to town for dinner.
We ate at Cafe Aroma. The food was so delicious. We had a sausage and pumpkin lasagna and a flatiron steak with gorgonzola. The lasagna was killer. Lots of red wine. Wait... I started with white, then red, then port. Woohoo.
Yeah, I was a little, lotta looped. So much so that when we got home, we put away groceries that we had bought earlier. I also bought a toothbrush because I thought I forgot mine, but it wasn't in the grocery bags. :( Luckily I really had packed my tooth brush. However, in the morning as Joe started breakfast, he found my new toothbrush in the refrigerator next to the fruit I had put away. Hahaha...oh my aching head.
Later that day we picked up our Thanksgiving dinner from the Village Market. We had the works. It was more food than we could possible eat by ourselves but we did our gosh darned best over the entire weekend. Turkey sandwiches and a repeat dinner. Even the dogs got some turkey and gravy. They thought they had gone to heaven.
On Friday we went on a 5 mile hike. That's what happens when you have a hubby who is stuck on go. Stuck on go is a Hawaiian expression and fits the man to a tee. The hike was moderate yet challenging. None of us were in shape for a four hour death march. There was snow! Tank, the doxy, was a trooper but by the time we hit the last half mile of slush and ice and water she was done and I had to carry her. Then I had to carry her down past the snowline before she would walk again. Bodhi, our big dog, he is not as spry as he used to be. Even though the dogs are the same age (10years) he has some shaky back legs. He was all hinky jinky by the time we got to the bottom of the mountain. Poor thing is still stiff and limpy.
The hike beat the heck out of us but after some turkey sandwiches we headed to the Harvest Festival at the Town Hall. We checked out the crafts and then grabbed an ice cream and walked around town.
Saturday, we were pretty sore but we went on a short hike on an easy trail. Did a little four wheeling. Ate an early dinner at the Good Times Pub & Grill. They had very good chili and the waitress is the pie maker. We tried her apple cranberry and it was delish! We thought about going to the Tree Lighting Ceremony in the center of town but decided we were ready to go home. When we got home, our neighbors told us that the power had just gone out. We joked that it was because they lit the Christmas tree in the center of town. Well...the power outage
was
due to the lighting of the Christmas tree. So funny. We lit a fire and took a nap. Don't you love vacation? A fire and a nap is sooo good.
Before the power came back on, we walked the dogs. The sky was unbelievable. I have never seen so many stars. Truly I hadn't seen that many stars since I a kid. There were so many stars you could barely discern the usual constellations. It was absolutely amazing.
When the power came back on we finished our puzzle we had bought in town on Friday. I love doing puzzles. It is such a vacation luxury. On Sunday we packed it up early and headed home.
This vacation had a little of everything. Reading time, music time, lots of great food, some football and after Thursday no tv. A little knitting, a big hike, a little hike, sitting by the fire, a jigsaw puzzle, our dogs. Idyllwild was the perfect little getaway for us.