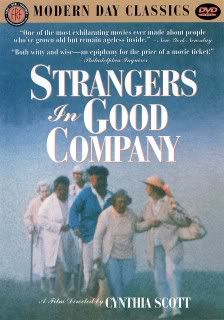 Strangers in Good Company (1990)
is a gem of a film.
It is part drama and part documentary. It is about a group of 7 elderly women who find themselves in the wilderness. These are real women, not actresses and the dialogue is largely improvisation as their lives and relationships unfold. It is really and truly a beautiful film. It will warm your heart and you will fall in love with these women. The commentary by the director, Cynthia Scott, and the Cast biographies will really give you more information and insight into these tremendous women as well as the beauty of film making. This is the type of film I would like to make if I were a film maker. It shows the extraordinary lives of these women in a tender and profound way. This group of women are magical together.
This is definitely one to put in the
netflix
queue.
I think you will love it. I know I did.