I am thankful for the bounty that the Hollywood Farmer's Market offers. I am thankful that I live in a place where the weather permits late, late season & still sweet and delicious heirloom tomatoes. Heirloom tomatoes with fresh homemade mozzarella and basil. Caprese, in my mind, is the absolute best summer salad and that I got to enjoy it in all it's bright and best flavor in November is amazing.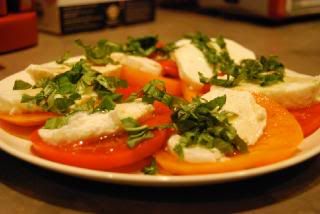 Paired with a savory Lentil Soup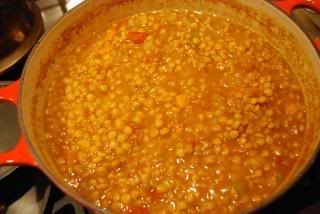 and you have a beautiful meeting of the seasons.
Sorry the pictures do not even come close to the real colors of these dishes. They looked and tasted amazing.
I am very thankful that I have a great friend in Darcy to sup and share such a beautiful meal. Tis the season for amazing meals with family and friends. Enjoy!
Lentil Soup
1 Tablespoon olive oil
1 Fennel bulb, diced
1 Large onion, diced
1 Large carrot, diced
1 Celery Stalk, diced
1 14-oz can diced tomatoes
2 cloved garlic, minced
1/2 teaspoon crushed red pepper
1 Bay leaf
8 Cups vegetable broth
1 16-oz bag dried lentils, rinsed
Heat oil in dutch oven over medium heat.
Add fennel, onion, carrot and celery and cook until tender. Add tomatoes, garlic, red pepper and bay leaf. Cook and stir for 2 minutes. Add broth and lentils. Bring to boil. Cover and cook over low heat 30 minutes or until lentils are done. Discard bay leaf and serve.