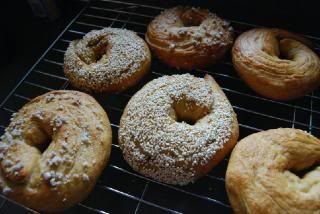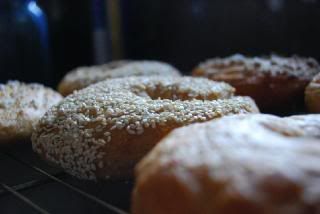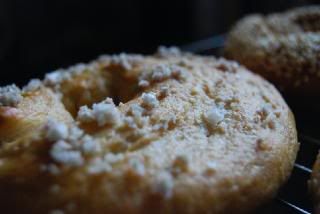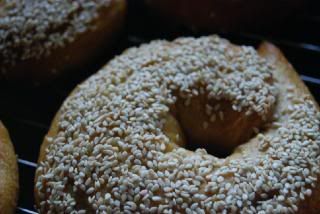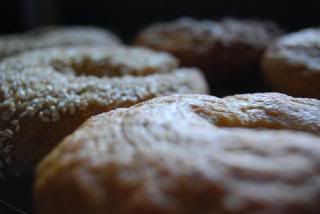 Bagels for breakfast. Homemade bagels fresh out of the oven. Sesame, Salt, and Plain. The hubby is exploring a new venture in baking. The hubby's bagels are more rustic looking than your usual bagel. The two of us were not the best bagel shapers. That is a skill that comes with practice I imagine.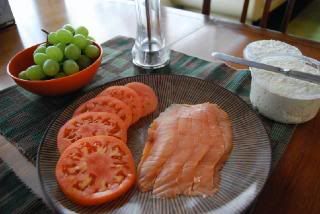 This is the rest of breakfast.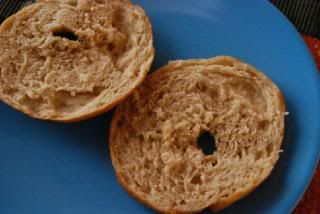 This bagel is about to be smothered with cream cheese and tomato. This is my personal choice of bagel toppings. The hubby likes a little lox.
Bagels
were featured in the LA Times Food section this week. Here is an
article
by Peter Reinhart about making bagels at home. Here is the
recipe
from the paper and a
step by step photo guide
. They were pretty easy to make. The hubby's bagels had a good chewiness and good bagel flavor. The crust needs a little work but he already has thoughts on how to improve it for next time. Maybe next weekend. YUM!
The review of last night's Beer Can Chicken. AWESOME! It really was the juiciest chicken we have ever made. We love a brined rotisserie chicken. The hubby makes a great rotisserie chicken but I swear this was juicier than the regular rotisserie chicken.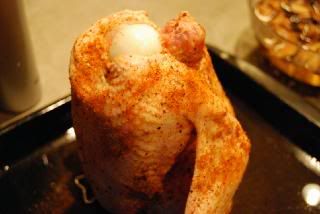 Here is the chicken standing in it's beer can stand with a shallot plugging up the neck hole. There is a beer hiding in there too. Careful when removing the beer can. Can you say Boiling Beer? You have been warned.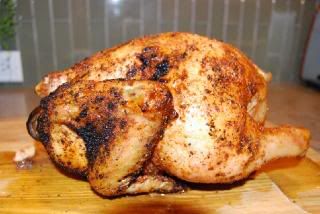 Here is the finished chicken. Doesn't it look good? We dry rubbed it with
Baron's Savoury
Secret #4
Texas BBQ with Chipotle
. I love
Baron's Savoury Secrets
. My all time favorite is
Secret #3
Kansas City BBQ
. They taste great on all meats. I have even sprinkled it on grilled corn. I discovered the Secrets at the meat counter at
Whole Foods
.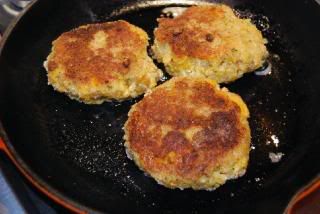 These are Farrotto Cakes that I made with the leftover farrotto. They are so simple to make and taste delicious.
Here are the recipes for the Farrotto and the Farrotto Cakes.
Butternut Squash Farrotto
INGREDIENTS:
2 cups farro
8 cups vegetable or chicken stock
1 butternut squash, seeded, peeled, and cut into 1/2-inch dice
4 tbls unsalted butter
1 onion, chopped
2 tbls chopped fresh sage
Freshly grated nutmeg
Freshly ground black pepper
2 tbls. unsalted butter
¼ to 1/3 cup parmesan cheese
Pour 8 cups stock into a saucepan, place over high heat, and bring to a boil. Reduce the heat to low and keep the water at a bare simmer.
In a large dutch oven, melt the 4 tablespoons butter over medium heat. Add the onion and sage and sauté until the onion is translucent and tender, 8 to 10 minutes. Add the farro and stir well to coat with the butter. Add 1 cup of the simmering stock and cook, stirring a few times, until the stock is almost absorbed. Then continue to add the stock 1 cup at a time, always allowing it to be almost fully absorbed before adding more. Add the squash when about half the stock has been added. The farro is ready when it is tender but still chewy at the center. You may not need all of the stock. The whole process, beginning with sautéing the onion, should take about 40 minutes. Season to taste with nutmeg, salt, and pepper. Stir in a little butter and parmesan for richness, if desired. Serve immediately.
Notes:
This is not a dish to leave unattended. It requires constant stirring and the adding of liquid. You may or may not use all of the broth. You may also substitute arborio rice instead of farro to make a risotto. Also make sure your dice on the squash is fairly consistent and not too large otherwise you run the risk of the squash not cooking through.
***************************************************
Farrotto Cakes
INGREDIENTS:
2 cups chilled farrotto
2 T. Italian bread crumbs
1 egg yolk
1 egg + egg white
Italian bread crumbs for breading
olive oil
Preheat oven to 350 degrees.
Combine the farrotto, 2 T. bread crumbs, parsley, and egg yolk. Mix thoroughly with your hands. Shape into equal balls and flatten into cakes about 3/4 inch high. Dip into the egg and then lightly bread with the bread crumbs. Heat a saute pan with a thin layer of olive oil over medium heat. Cook, flipping once, until both sides are a deep golden brown. Transfer to paper towel lined baking sheet and warm in the oven. Add a little more olive oil to pan and cook the remaining cakes.
Servings 4 to 6
Notes:
You can also add some fresh chopped parsley when making the mix to freshen up the flavor. Due to the thickness of the cakes the middle may still be cool when the outside browns up, which is another reason to warm them up in the oven while cooking the remaining cakes.
Buon Appetito tutti!
P.S. Thank you, honey, for all your good cooking. I so love and appreciate it and also that you clean up along the way. Woohoo...lucky me.