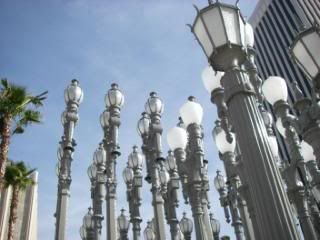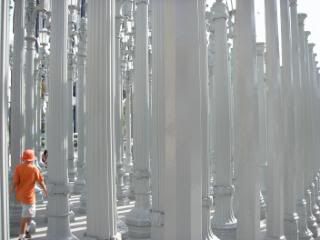 Chris Burden's
Urban Light
Sculpture at
LACMA
.
Yesterday my good friend Mitch and I took advantage of a beautiful LA day to go to the museum. Neither one of us had seen the new Broad Contemporary Art Museum and we were eager to check it out.
It did not disappoint. My favorite pieces were
Richard Serra
's
Band
and
Sequence
. These large scale steel pieces are amazing/disorienting/powerful/sinuous/beautiful. You really get to experience these pieces. They are a must see. I also got to contemplate
Michael Jackson and Bubbles
. This is a very unique piece to say the least. The collection of contemporary art is astounding. Go and check it out.
We also saw two other exhibits
Shell-Shocked: Expressionism after the Great War: Selections from the Robert Gore Rifkind Center for German Expressionist Studies
Through April 19, 2009
This exhibit has some very powerful imagery.
and
Vanity Fair Portraits: Photographs 1913–2008
Through March 1, 2009
If you love portrait photography go and see this exhibit. It is worth it.
What's this?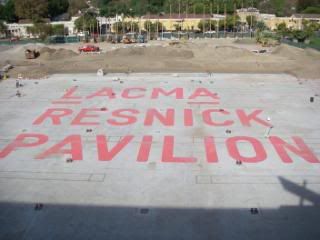 This is the future site of the
Resnick Pavilion
.
Here is a view of Los Angeles from the
BCAM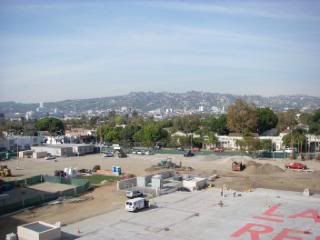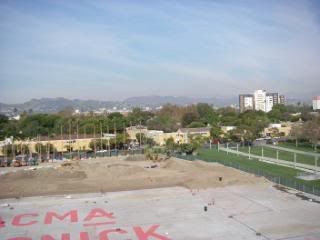 Lots of things are shaking over at
LACMA
. With the expansion and reorganization the exhibits seem more cohesive and organized. The parking situation is so much better. There was a quartet playing in the courtyard. It is a great way to spend the day.