I am just loving my yarn and how well my last
cowl
turned out. So I found another cowl pattern and kept going. This is the
Ridged Lace Cowl
. Again, I found the pattern on
Ravelry
. I love how the yarn is creating a totally different pattern than the last cowl. I love the surprise of how variegated yarn reveals itself.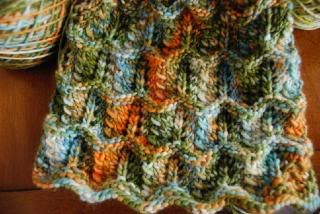 The lace pattern is easy to remember, which is always a plus. I have two more pattern repeats to go and it's finished. This little elf is getting some knitting done. Those holidays are just sneaking up.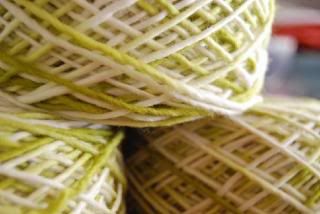 This is the next yarn pile to conquer. It's the same
yarn
and the color is called Limon. I am thinking of striping the two different yarns together and see what happens. It's nice when your little knitting projects offer some interest. How do you spice up your knitting when you are in a knit rut?
******************************************
A moment of gratitude for the beauty of the sun light streaming through the window onto the kitchen floor, where a puppy basks in the light and the awareness to take the time to enjoy it too.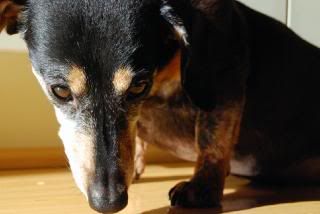 ********************************************