Remember this little hooter that was part of the
Toy Society Christmas
?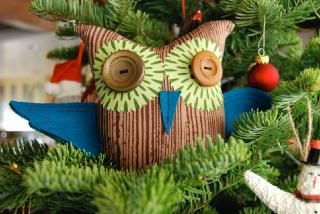 Two things are happening over at the
Toy Society
.
1. There is the
Valentine's Day Drop
. Where people world-wide will be dropping homemade toys for unsuspecting people. I know this is late notice but if you can whip up a little creature for Valentine's Day you can participate too. It's lots of fun and you can sign up through the
website
.
2. The Toy Society's headquarters are in Australia and as you have probably heard there are raging wildfires causing havoc for thousands of people. The Toy Society is collecting handmade toys for children whose lives have been impacted by the fires. If you would like to donate a handmade toy, again, please go to the
website
and sign up. Also you can monetarily donate directly to the
Red Cross
.
I love the idea of spreading joy through needle and thread. The Toy Society is a great way to make & send some love into the world. The best part about it is that you can participate at any time, but here's a chance to play along for people who really could use a lot of love.