Heads Up Everybody
. This is
very
important.
I was just visiting my friend
Ellen's blo
g
and she just informed me that tomorrow is
Ice Cream for Breakfast Day
. This is a day to be celebrated, let me tell you. You can find out about the origins of ICFBD
here
.
Honestly I don't see why it has to be just one day a year. The Sicilian national breakfast is gelato con brioche. I wrote about it
here
and
here
when I went to Italy for my 40th birthday. When I heard that this was on the breakfast menu I could not wait to get to Sicily.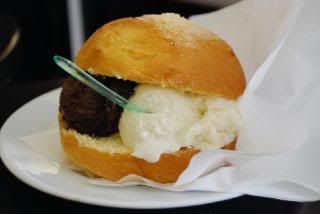 I was not disappointed. You are looking at the best breakfast in the world!
How was it you ask? Just look at this face at first bite.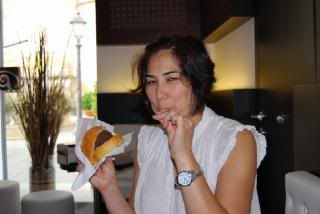 Heaven. I'm in heaven.
This could be you tomorrow morning.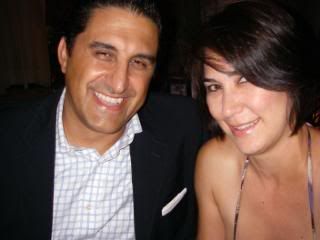 This is the hubby and me in Taormina. Thank you honey for the best birthday present ever.
So how will you be celebrating
Ice Cream for Breakfast Day
tomorrow?
What is your favorite flavor ice cream?
Mine is Mint Chocolate Chip.
Just to let the Angelenos know, I believe that
Joan's on 3rd
serves gelato on brioche.