Recently Joe and I were downtown and had lunch at
Clifton's Cafeteria
(Broadway and 7th). We had read about in the
LA Times
and decided we had to experience it.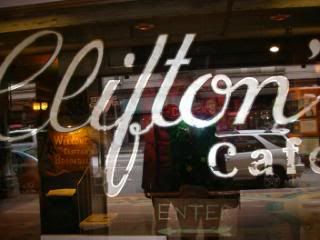 Some of you may recall that I was sick over Christmas and we missed having dinner with the family. This also means we missed the traditional turkey dinner as well.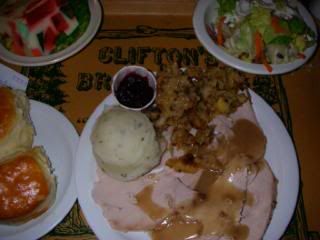 So when faced with the turkey dinner option we loaded up our trays with turkey and the trimmings. It was delicious.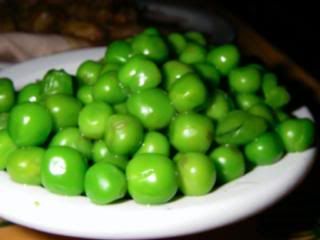 Don't forget to eat your vegetables.
This jello concoction just had to be tried. The white bits don't really taste like anything so you might as well go for the unadulterated jello and skip the fancification.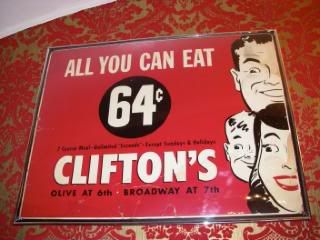 Now I am not sure why I didn't take more pictures of the interior because it is truly part of the experience. Seriously. There is a waterfall and a moose head and piney paneling.
It reminded me of our basement in our split level ranch when we lived in Raliegh, NC. We had bought the house from the original owners, the Mercado's. Well really Mrs. Mercado as Mr. Mercado had passed some years before. The house was built in 1962 and had some of the original furniture still in it, which we purchased with the house in late 1999. It had wood paneling and
asbestos floor tiles
. The same type of tiles that were installed in every school I ever went to as a kid. We hadn't been to a cafeteria since we wandered into a
K&S cafeteria
in Raleigh. We only ate there once. It wasn't very good. So we were a little leery of the cafeteria experience. I mean really the only cafeterias you eat in are at schools and hospitals, neither one is associated with great food or fond memories.
I am happy to say that Clifton's was a great experience. The turkey dinner was really good and satisfying. The decor is outta sight. Walking into Clifton's is like being instantly transported to another place in time. You feel at home and at the same time like you are on an adventure. It really was a delightful excursion.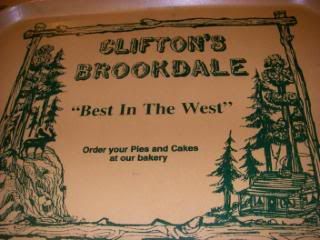 This cool tray says it all..."best in the west". I don't know why but I love a good tray. The hubby told me he knew I wanted to steal the tray, which I did, but never would. Luckily, you can buy one at the bakery on the way out the door. Yes, I am a proud and rightful owner of a Clifton's Cafeteria tray. If you are downtown and want to check out some LA history as well as have a good meal or a slice of pie then you should mosey on down to Clifton's and travel back in time. It will be well worth it.