This past Christmas I received 2 pairs of knit socks. I have never had the pleasure of knit socks before. It is wonderful. They are so comfy and they fit so well, and they keep your feet warm. Mine are always cold.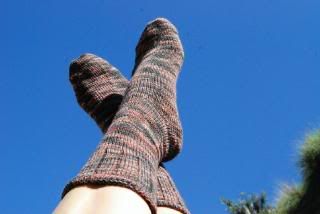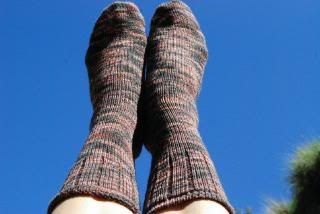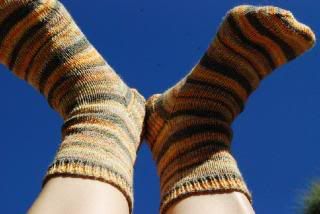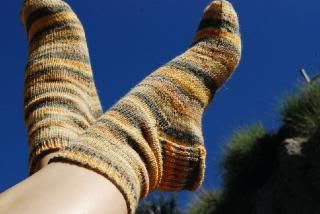 The top pair are from
Ellen
. She had them made at
Fernwood Woolworks
. You send your fab sock yarn to them and the yarn is knit up on a 1920's sock machine. So cool, don't ya think? Ellen is a smart cookie and had a whole bunch made for Christmas. A word to the wise if you think it is a good idea. Send your yarn early to get your socks made and stash them (like do it now!) because Fernwood gets super busy at the holiday time. Imagine you could already have a stash of super cool presents for Christmas. It's mad genius.
The second pair of socks were made by
MaryJo
. She knit these up while she was touring Thailand, Cambodia, and Vietnam over Christmas. My socks have been places I have never been. They have been infused with temple magic, bus fairy dust, and exotic spices. She knit them herself! I find this amazing because I have a fear of small needles. Size 5's...I gotta reallyreallyreally love it. Size 1's...fuhgedaboutit.
The socks are wonderful. I absolutely love them. I haven't quite figured out the fascination with knitting socks, but I can definitely get into wearing them. However, I did purchase some sock yarn so I am contemplating trying to knit a pair of socks sometime this year. We'll see how that goes, but I know where to send my yarn in a jiffy if need be.