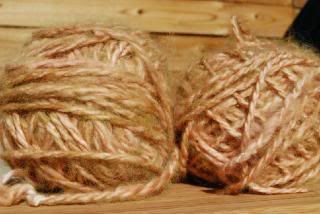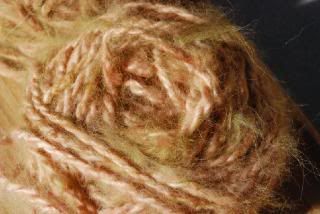 Malabrigo Angora
Hand Spun Hand Painted Angora
Apple Cinnamon
~100 yds.
This yarn is pure lusciousness. So soft. The cinnamon color of the yarn with a Granny Smith green halo is pure angora loveliness. But I only have 100 yds. What should I make? A cowl, a scarlette, a hat? Save it and use it to fancy up a sweater at the collar and cuffs?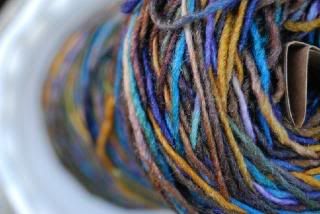 This is
Manos Silk Blend
30% Silk 70% Extrafine merino wool
Kettle Dyed
color: 3110
I have ~900yds of this beautiful yarn that I picked up in Texas. I would love to make a shawl but I do not want to get too complicated or lacey. I was thinking that the tried and true
Clapotis
might be the answer.
What say you to this yarn quandary? What would you do if presented with such finery of fiber? Why have I gotten all Renaissance Faire with my questions? Weird. Anywho. I would really love to get your suggestions. Really and truly as my puzzler is sore.