This weekend was spent exploring some new places.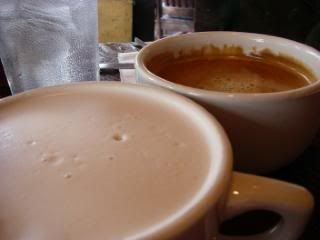 Saturday morning the hubby and I went to the
King's Road Cafe
. They make a seriously mean cup of coffee and a serious chai latte. Can you see the frothy soy foam on that chai? It was thick and fluffly too. The chai was not too sweet, which is what usually happens when made from a box mix. At other places who make their own chai (not from mix), the chai tends to be flat and lack any sweetness. This was the perfect chai with just a hint of sweetness. The hubby said the coffee was really good and that two cups would probably send the most caffeinated person over the edge of wire.
Breakfast was good. We both had omelettes of different varieties, which were solid in the omelette department. The surprise on the plate were the breakfast potatoes. They were very flavorful and not overcooked and dried out. You know what I mean when you get your breakfast plate and are faced with shriveled up, from laying around under a heat lamp bunch of sad looking potatoes. These were GOOD breakfast potatoes. The complete antithesis of your normal breakfast potatoes. They were my second favorite thing after my chai latte. The restaurant gets very busy, but seem to turn over the tables pretty quickly. It is a great people watching corner. People with dogs or babies or packs of cigarettes enjoying breakfast. Three cyclists, fresh off their tour de France training run, rode up for breakfast too. If you just want to try the cup of coffee they have a walk up, to go counter next door to the restaurant.
Saturday night we got off the couch and headed on down to the
World on Wheels
.
Jenna
and
Regina
scouted out the rink the week before. They had so much fun they were going again. The hubby, our friend Jason and I decided we would visit our childhoods and wheel around the rink. It was FUN!!! I highly recommend that if you have your own skates you should bring them. There are really good skaters at the rink and they have their own tricked out, kitted out skates. Yes I did fall on my butt. Yes it did hurt. In fact the left butt cheek still does. We really did have a great time skating and watching the other skaters.
We worked up a powerful hunger with all that skating.
Guess where we went?
That's right.
Roscoe's House of Chicken and Waffles
Of course I had the chicken and waffle. When at the House of Chicken and Waffles that is what you eat. It is such bad for you but oh so tasty food. The caloric guilt was definitely lessened by the fact that we had rollerskated our booties off. Well, in my case banged my booty off. It was an off the beaten couch kind of night for us. It was an on-the-fly, kooky and decadent night. I love it when that happens.
Sunday, late morning, my friend Darcy came over. We were hungry so we decided to go over to
Madame Matisse
for breakfast. Darcy went for the waffle with orange syrup. It looked soooo delicious. She didn't leave a crumb behind and her syrupy smiling face beamed YUM! I went for the BBLT. That would be the
Brie
, Bacon, Lettuce and Tomato sandwich. This is genius. Who needs avocado when you can have brie? My cheesy smile heartily endorses the BBLT and Madame Matisse. It is located on a little corner in Silverlake, with mostly sidewalk seating, which means more good people watching. Next time I am going to try the waffles!
We were going to go to the Hollywood Farmer's Market, but after our beautiful breakfast at Madame Matisse we decided we were over that idea. Darcy was lacking a knitting project so we headed over to
Knitter's Studio
on 3rd Street. Even though this is probably the closest yarn store to me I had never been there. The big reason why I hadn't been there is because there is never any parking. It is on a busy street with lots of busy restaurants and you can never, ever find a parking place. The side streets are also difficult to park on as most require a residential permit. The store has a great selection of yarns and the woman working the store was very friendly and helpful. The good time experience all came crashing to a halt at the cash register when the woman said she had to check the prices on the yarn against their new
raised
prices. WHAT?! How is that good customer service? If you have not changed the prices on the skeins on the floor why should the customer be charged more at the cash register? This is a very unfortunate and bad business practice. Until you change your prices on the skeins displayed, you may have to eat a quarter or two here and there until you do. You
do not
screw the customer at the cash register. Needless to say I will not be risking a parking ticket again to buy yarn there. So sad. This also happened to my friend
Lori
who bought yarn there earlier in the week. Luckily there are lots more stores to buy yarn in Los Angeles and it will be worth the drive to experience better customer service, prices and ease of parking.
Darcy and I didn't let that stop us from continuing our good day. We grumbled and then went on to buy snacks for Oscar watching. We got home and started chilling the champagne. We watched a couple of episodes of Top Chef. Darcy cast on for a dog sweater and I had already started a new knitting project earlier in the morning.
The
Fake Isle Hat
I just wanted a quick knit project and this is fit the bill. Plus it is done with a random ball of Noro Kureyon and Cascade 220 that I had in the stash.
You have to love and hate the spectacle that is the Oscars. We drank champagne and ate stinky cheese with crackers. We knit, we laughed, we criticized, we ate, and watched the entire thing from the Red Carpet to the credits. You just have to...it's the Oscars.
How was your weekend?