This past weekend we had a little send off for
Carla
. Carla is moving to Houston. I am in absolute denial that my BCFF (Best Crafty Friend Forever) is leaving town. Sooooooo, let me tell you about the party prep.
Let's start with the SANGRIA!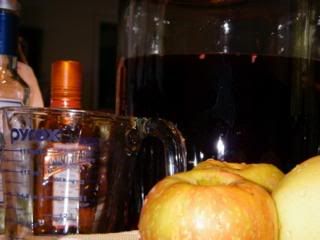 Sangria is best made a day ahead for the mixing and maturing of flavors. I made a batch of red & white sangria. The recipe for the Red Sangria is a Bobby Flay concoction and can be found
here
. The only addition I made to the recipe was adding blood oranges. Oh and doubling the recipe. Wooo! It's for a party you know.
I also made a White Sangria, which is great because you use summer fruits. It was more difficult finding what I felt was a solid recipe so I came up with this.
White Sangria
4 bottles White Wine
1 cup Peach Liqueur
1 cup Brandy
2 cups orange juice
1 cup simple syrup
2 mangos
oranges
nectarines
Usually you add sparkling water or 7-Up the next day. However I prefer not to dilute the alcohol. So I serve the ice and sparkling water on the side. Don't forget the stir straws!
Here is another make a day ahead salad. It is truly a tasty and takes only 5 minutes to make.
This Garbanzo Bean Salad is from Nancy Silverton's
A Twist of the Wrist
. She got it from Traci Des Jardins of Jardiniere in San Francisco. Everything I have made from the book, about 4 or 5 recipes, have been really good. The subtitle is "Quick flavorful meals with ingredients from jars, cans, bags, and boxes" but don't be fooled. These recipes are definitely a level above say a Rachel Ray or a Sandra Lee type quick meal. You have to try the salad. So easy and delicious.
Garbanzo Bean Salad
1 15-ounce can garbanzo beans, rinsed & drained (about 1 1/2cups)
1 bunch scallions, very thinly sliced (the White & halfway up the green parts; about 1 cup)
1/4 cup plus 2 tablespoons extra virgin olive oil
1/4 cup red wine vinegar
1/4 cup roughly chopped fresh Italian parlsey
1 teaspoon ground cumin
1/2 teaspoon dried chile flakes (optional)
Kosher salt
Pepper, freshly ground
Combine & Stir.
The only modification I made to this recipe is 2 cans of garbanzo instead of one. I think this makes a better ratio of ingredients and there is more to enjoy.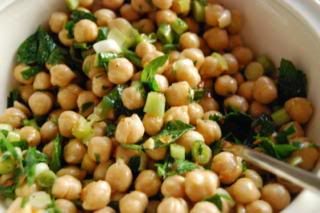 The hubby was experimenting with a new bread. Ricotta Bread from the new issue of
La Cucina Italiana
.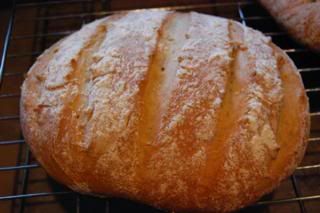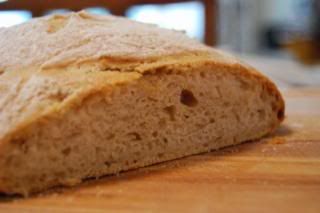 This bread is delicious. The bread is a little sour with a hint of cinnamon and the crust has a nice chewy bite without a hard crust. My verdict was this makes an amazing bread for brunch or a special occasion. It was delicious with fresh peach jam from the Farmer's market. It was fantastic with
Ellen
's amazing Curried Chicken Salad. And it made a delicious toast in the morning.