The hubby has this baking hobby I have mentioned a couple of times. We go to
Surfas
in Culver City to buy the flour. Surfas is a gourmet market and restaurant supply.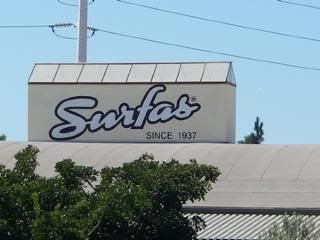 They also have a cafe.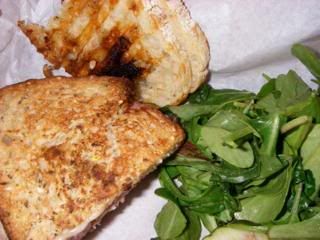 The hubby and I shared a kurobuta ham and cheese sandwich and a tomato and fig sandwich. Both were very tasty, especially the tomato & fig. What a combo. The lunch box has great little quotes.
I hope I am as profound as Kit when I kick the bucket.
Yes, Erma always had a way with words on life. Moral of the story: don't let the dessert cart pass you by.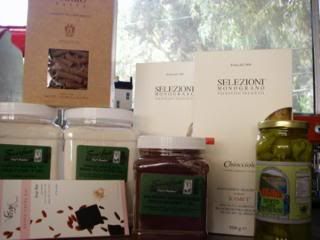 We stocked up on the staples: flour, pasta, cocoa, pepperoncini, chocolate
Here's the dessert cart...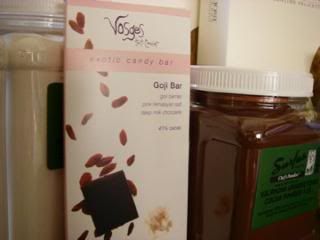 This is my currently favorite candy bar.
It's
Vosges Goji Bar
. This is a yummy candy bar. It has
goji berries
, pink Himalayan salt and deep milk chocolate 41% cacao. The sweet/tart berries and the salt in the creamy, melt in your mouth chocolate make for a delicious experience. The deep milk chocolate is a little richer than your usual milk chocolate but doesn't have the bitterness associated with dark chocolate.
Vosges has an entire line of exotic candy bars.
Here are a couple of intriguing ones.
Mo's Bacon Bar
: applewood smoked bacon, alder wood smoked salt and deep milk chocolate.
This one might go well with the bacon wrapped donut that
Regina
tried in Portland. (I am not kidding. She has photo documentation. Go see the picture on her
blog
).
I the love the name of this one.
Woolloomooloo
: roasted & salted macadamian nuts, Indonesian coconut, hemp seeds, and deep milk chocolate.
What's your favorite candy bar? I am willing to taste and learn.