Look what the stork dropped off....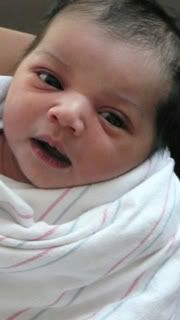 Meet Sara.
She arrived on May 28, 2008 at 11.35 pm and weighed 8 lbs. She is gorgeous and the parents are madly in love with her. In this day and age we usually know what the sex will be but in this case she was a surprise. I love surprises! Now I plan on knitting up a lovely little something for her.
Carla
and
Laurie Ann
are both knitting up the cutest little
sweater
so I might just jump on their knitting bandwagon.
Welcome to the World pretty girl!