This is the Pleated Beauty Bag I made for my
swap partner
.
I love the picnic, red and white checks against the navy linen.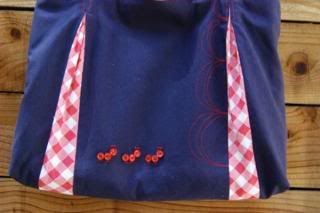 The bag demanded some picnic ants (buttons, and embroidery). Also, I made the strap three inches longer, a little bit wider than the called for 1" thick strap and used interfacing to give it some durability. These were the only modifications I made for the bag.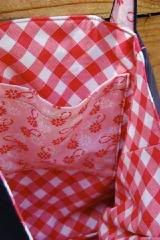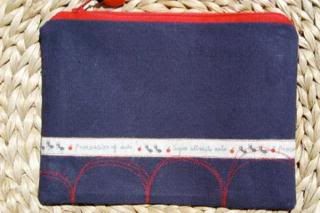 I also made a zipper pouch for the bag.
Carla
recommended the
tutorial
found on
craftster
. It was pretty danged easy. These are my first lined bags. I'm not scared of lining no more. HA! Take that lining! The ant tape I got from
Superbuzzy
. It says "procession of ants" and "sugar attracts ants". Very cute.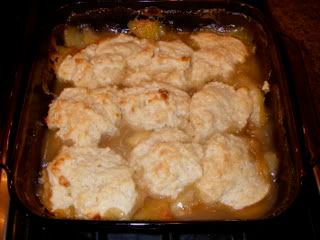 This is the peach cobbler I made last 4th of July and this is the recipe I sent with my bag. Now this picture don't look like much but let me tell you......YUM! I actually made two peach cobblers on that day and this was the better
recipe
. The original recipe called for blueberries but I went for pure peach.