My
Pleated Beauty Bag
from the
BTRSswap
arrived in the mail yesterday!
Here it is all the way from Prairie Grove, AR.
I think it is super cute and the perfect summer tote. I love the stripes and Asian floral together. I should have taken a close up picture of the floral but it has cherry blossoms and peonies and lotus flowers. The Good & Plenty colors are perfect. I love
Good & Plenty
. Yummmmm. I have just finished the cleanse and I am trying to go until June without the refined sugars. I have to satisfy my craving with fruit. Thank goodness the strawberries are sweet this time of year! Sorry, sugar deprived. Okay back to the bag.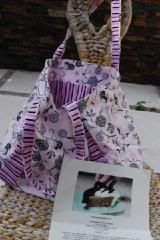 Part of the swap was recipe for dessert. Yes, it's a teaser right now.
Can you read it?! HA!
The recipe is for Delicious Chocolate Pie. I am off the sugar for now but will try this recipe when I am back on the white stuff. For now I will share the recipe with you. Please leave a comment if you make it and let me know how it is. I will live vicariously.
Delicious Chocolate Pie
2 sticks regular butter, softened


1 1/2 cups sugar


4 ounces unsweetened chocolate melted


1 teaspoon vanilla


4 eggs


1 baked pie shell


Beat butter & sugar together until light & fluffy, then mix in cooled melted chocolate. Add vanilla and mix. Turn the mixer to medium speed, then add in the 4 eggs, one at a time, mixing for 4 to 6 minutes after the addition of each egg. Scrape sides of the bowl once during mixing. Pour into the cooled pie shell & refrigerate for at least 2 hours or overnight. Plop whipped cream on top & serve. Garnish with chocolate curls if you are feeling sassy.


Thank you my swap partner from Prairie Grove!
Love the bag! And I know I will love the recipe.
The next Bend the Rules Sewing Swap will be announced soon. I will keep you posted or go
here
.