Upon arriving in Houston,
Carla
and I went to
Ikea
. She was ready to get some shelving and knew exactly what she wanted. We picked up the
Expedit
on Thursday afternoon. Wouldn't you know she picked out the biggest dang bookshelf she could find? It came in three separate boxes!!!
Good thing I came to town...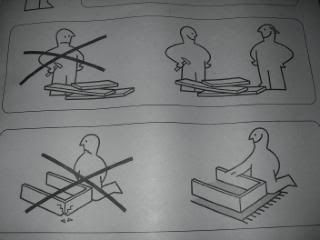 because the instructions show you need a friend to assemble.
Friday morning it was time to get down to business.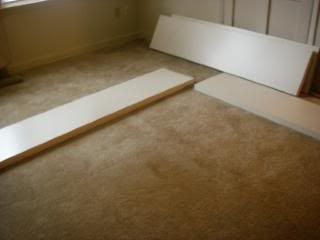 Mira really isn't helpful.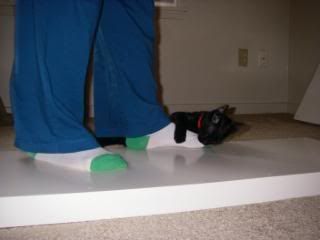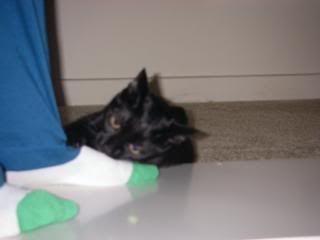 She was chewing Carla's toes off, running off with the all important dowels, and diving through the cardboard boxes and paper, and just causing a ruckus the entire time.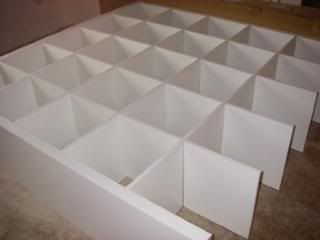 Ikea...you have to love their stuff, but dang it when you got to put it together. Granted we were humming along until almost the very end. This sucker came with 50 dowels!!! But dagnabit you know we busted off three or four right in the holes! This required emergency bookshelf surgery. We busted out the drill (STAT!) and redrilled the holes. But Ikea gives you just the number of required parts for assembly, no extras for emergency surgery and the repairs. The clock was ticking because the hubby was coming to town and we were meeting him at the airport. I jumped in the shower for a rinser. (Assembly made me shvitz) Carla ran over to the Home Depot for more dowels. I packed my bags. She got the guy to cut the dowels. She got home and we finished that book shelf just in time for us to hit the road and meet Joe.
We didn't get the chance to spend a lot of time together this visit, but we were very productive in that time. As always there were big laughs and loads of memories. The two of us got that BIG ole bookshelf done and up. I took home a few bruises as well. That Expedit beat the crap out of me!
Carla got to work and prettied it up right after I left.
Don't it look nice?
If you want to see what other people do with their Expedit bookshelves check out this
flickr pool
.