Kiss and Cookie's First Birthday
!
Of course 2 smash cakes are absolutely necessary.
(Shhh Mom really bought 4, plus a sheet cake.
She's funny that way and she really likes cake!)
One for Cookie
and one for Kiss.
Now the funny thing about those cakes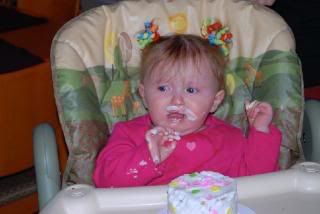 is that they did not like them at all.
(No one else ate any cake either.
Don't worry kids, your Fairy Godmother will make cake
next year with tasty homemade frosting!)