on the side of the road
that says 16 miles to the Love Shack
Shaque l'Amour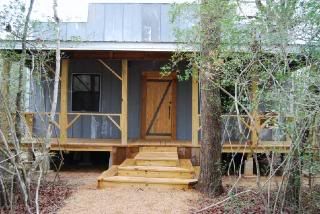 Sit awhile on the front porch
or Come on in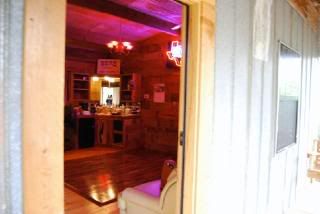 and have a drink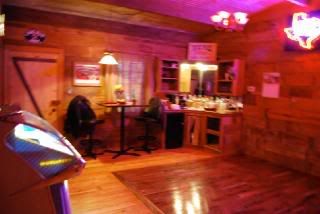 Play a tune & take a spin on the dance floor
The boudoir beckons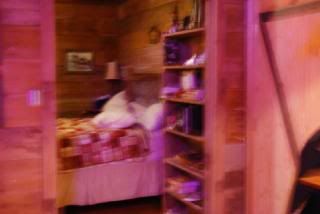 Gig 'em...that's Aggie lingo for you know what.
If it gets too hot come and rock on the back porch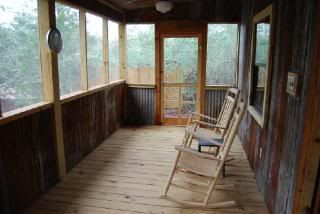 or get hotter (if you know what I mean)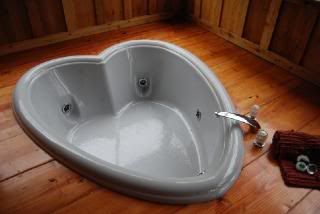 The whole time the jukebox keeps playing and playing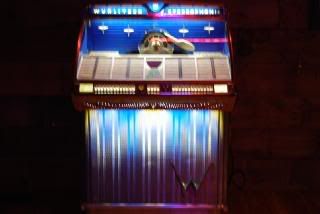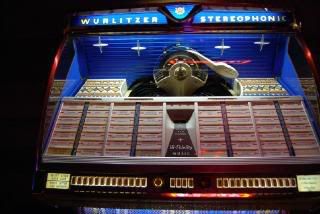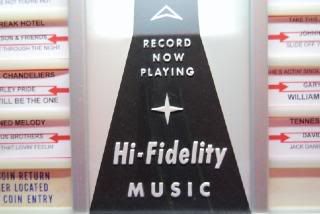 This is
Sully's Place
at the
7F Lodge
. It really was a Love Shack.
Here's the description
This is our newest addition to 7F and one of our larger cabins. It boasts an 80 sq. ft. dance floor, complete with a loaded 1959 Wurlitzer jukebox, and plenty of neon bar signs reminiscent of some popular Aggie college hang-outs. Relax on the 9 ft. couch indoors or in the private, two-person heart-shaped Jacuzzi tub on the screened-in back porch. The cabin includes a separate bedroom with a queen-sized bed and Aggie memorabilia. The private bathroom has a rustic shower and a separate "stall" — without the long lines! The front porch has a relaxing porch swing and the back porch includes two rockers. Relive your college memories, or make some new memories in this unique cabin.
The festivities for Cookie and Kiss brought a lot of family into town, so the hubby and I decided to get a room. It is not often enough when we don't sleep with a dog between us. We were very excited when I stumbled upon the the 7F Lodge. Honestly, I cannot say enough good things about our experience there. It was very secluded and romantic. We were stocked with breakfast pastries and other goodies. They will even supply wine and roses if you want them. No children or dogs are allowed and Love Rules at the 7F. Who knew knew such an incredibly romantic oasis was hiding in College Station, Texas?! Seriously it is the middle of nowhere and that is definitely one of it's charms. The best part of our stay was getting up in the morning and slow dancing on the dance floor to Willie Nelson singing All of Me.