Here is my first scarf.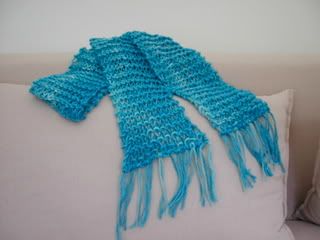 It was made in the Spring of 2004.
I started it on March 18 & completed it on March 20.
It is simple garter stitch on size 19 needles.
Manos del Uruguay. 1 skein. 60" long.
Color 04.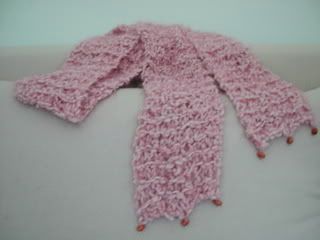 Here is my second scarf. I made it for my mom.
It was started March 20 & completed March 21.
Garter Stitch on size 19 needles
GGH Esprit 1 skein. 60" long.
I added 3 shell-like beads to the bottom for fringe.
I started and completed another one in the next couple of days
but I don't have a picture for it.
Again garter stitch & size 19 needles.
Mondial Allegro. 2 skeins.
This yarn was a boucle, thick and thin, variegated in orange/blue/cream.
I made it for my friend Melissa.
These three scarves were made after my first Knitting class and before the next week's class. I got the bug immediately. People in class accused me of being Amish, but I took to knitting like white on rice. It's been a love affair ever since.
I have the notes for my first projects in my Knitting Journal. You might remember the one. It's blue with a woman in blue, knitting and sitting on a big, cushy, overstuffed, green chair. There is a kitty and a tangle of yarn at her feet. Now we have the wonder that is
Ravelry
and it is a wonder. However, my little knitting journal has my label and a little snippet of yarn along with my notes. It is the little bit of yarn that really evokes the memory of that particular project. It just reminds me how very tactile the art of knitting is. I love the ease of Ravelry and of course the community but I may need to make a trophy book of yarns from my past projects. I realize this is very serial killer, but hey, an obsession is an obsession. The picture is great but I may need to fondle my wooly fragments in the future.