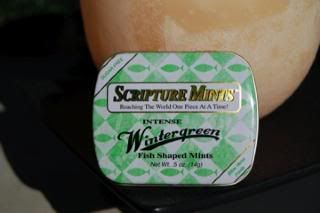 Yes. You can believe your eyes. This is a tin of Scripture Mints and it is not a joke. My friend Charissa lives in Texas. She sent them to me. You can pick up your Scripture Mints at many a checkout counter. No Lie.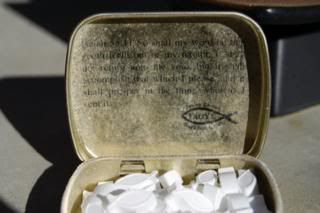 Each tin contains a bible verse and the mints are shaped like fish. You know, the one you find on the back of cars. This verse is Isaiah 55:11 "So shall my word be that goeth forth out of my mouth: it shall not return unto me void, but it shall accomplish that which I please, and it shall prosper in the thing whereto I sent it"...and with an intense wintergreen taste. You can check out other fine products at
Scripture Candy.
Charissa tells me there is a
Testamint
Gum too.
What an interesting world we live in.