On Sunday last, the hubby and I decided to go try some place new for lunch. We headed out to the
Oinkster
in Eagle Rock.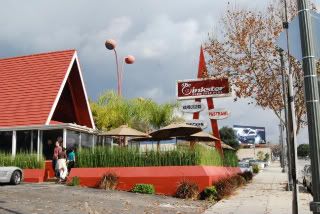 The Oinkster bills itself as Slow Fast Food.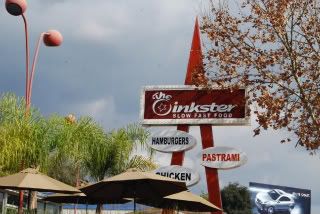 The hubby and the 1/2 chicken with black beans, rice and plantains.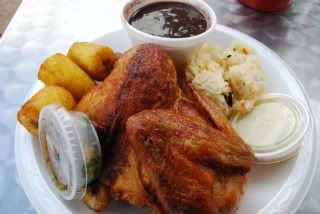 The hubs is a fool for some rotisserie chicken. No joke.
I had the signature Oinkster Pastrami sandwich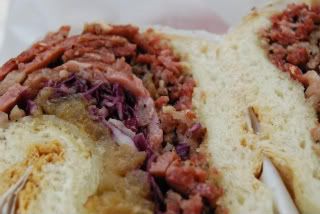 Which has gruyere cheese, caramelized onions, and red slaw.
Now to remember this is slow fast food so we had to wait a few minutes for our food. But when the order came all we got was the chicken plate. The chicken had great flavor and delicious skin on it. Everything else on the plate was okay. To be honest, the hubby makes better rotisserie chicken and it wasn't as moist as the Beer Can Chicken we have at home. They do make all their own condiments at the Oinkster, including the ketchup. The chicken is served with a garlic aioli. The hubs felt it was too garlicky for his taste, but I noticed he dipped into it a few times. Finally my sandwich arrived. I am sorry to say that I did not love my sandwich. I love pastrami, but I like mine lean. They cure their own pastrami and it had good flavor, but it was fatty. Big fatty meat is a turn off for me. Also the gruyere wasn't melted, but maybe that's because they had to remake mine in a hurry. I don't know. We also tried the Oinksterade, which is lemonade made in house. It was a little too sweet for me. I like a little bit of tartness in my lemonade. The sweetness did not help to cut the taste of my fatty sandwich, but a little bit of acidity would have. Overall I gave the place a solid B. It was good and worth a try. It was busy as all get out so the food really appeals to people.
On an A food note, on Saturday, we went to Cafe Bolivar (18th & Ocean Park, SM) on
Ellen's recommendation
. We split 3 different arepas (mango & avocado, ham & cheese, black bean & cheese) and they we all delicious. This is a definite place to stop and have some lunch if you are in the nieghborhood. For pictures of arepas check out Ellen's
blog
. My camera battery was dead. It was a great snack and then we met up the Fariview knitters for a few minutes. It is a really nice group of people. The library arhictecture is really cool too.
Back to Eagle Rock.
I had never been to Eagle Rock. It was just a famous rock and city I passed on the way to Pasadena.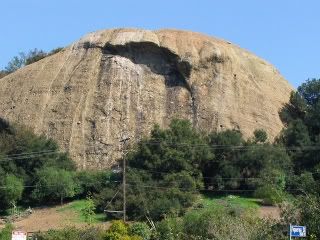 Since I had never been to Eagle Rock we decided to drive around a little bit. We turned on to Eagle Rock Blvd. and lo and behold I saw a yarn store.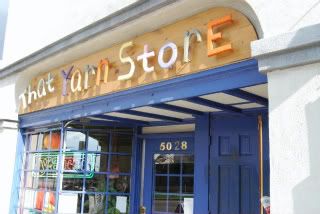 That Yarn Store
5028 Eagle Rock Blvd.
Well I had to drop in and support a LYS in these economic times. There was a pretty large group sitting and knitting on comfy couches when we walked in. I noticed that there wasn't a lot of stock in the store. I was greeted by David the store owner. He's was super sweet, with a big beard and bare feet. He wanted to know who the knitter was. That would be me, not the man following me around the store. He then told me that the store would be closing at the end of the week. It was terrible news and I could tell he was really sad about it. The store looked to be a place that had a real community surrounding it. The store offered poetry readings, spinning and sewing classes on top of the knitting and crochet classes.
It was sad to hear about another LYS going out of business. Although their online business would stay up and running, David wasn't sure what the step was going to be for him. From reading on the website it was a real family venture too with wife and kids involved in the enterprise. I wish David & his family lots of luck in their current and future endeavors. They seems like a very creative group and the type of family that knows how to make lemonade out of lemons.
For all of us, I know we have all made promises to cut back on the massive yarn consumption and are looking for ways to adjusts our budgets. But I guess there has to be some balance in supporting our local business owners and creating a more penny-wise budget and stash for ourselves. I went in with the intention of supporting a LYS, even if it wasn't exactly local to me. So I picked up some sock yarn. Yeah, me, who doesn't like small needles. But I thought I might give it a try sometime this year. If I don't manage to get the yarn on the sticks I know just where to send my yarn. Over to
Fernwood Woolworks
. They make a nice pair of socks. I know because Ellen gave me a pair for Christmas. But that's another post for another time.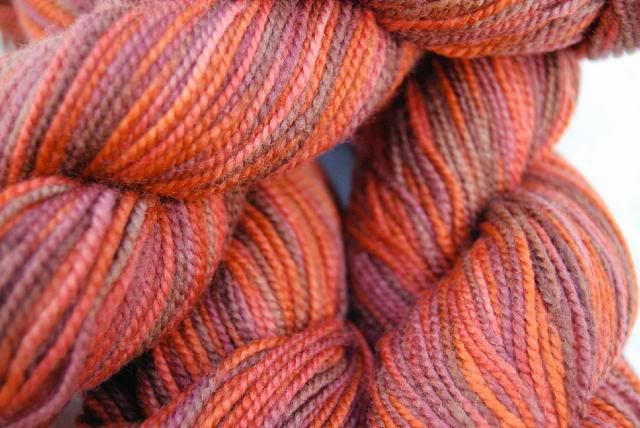 That Yarn Store
closes on January 31