or
The Antics of Mira
Yes I went to visit
Carla
in Houston at the beginning of the year. We did a lot of exploring the city. The first day we went and checked out
The Guild
. This is where she scored on her
bedroom furniture
. It was awesome and chock full of great stuff. Neither of us left empty handed. Here are the goods.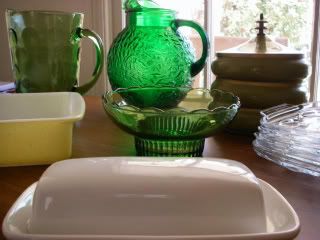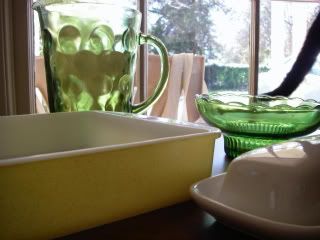 Here are Carla's pretties.
I bought her this one because it's from Ohio too.
We also made a trip over to the LYS.
Yarns 2 Ewe
This is a great shop if you are in Houston. They have just about every yarn imaginable in stock. We had a good old time in there as any two knitters would.
Another adventure was exploring Rice Village, we went to a very tasty Turkish place. The food was super delicious and I tried rice pudding for the very first time. The waiter recommended it because it was made fresh that morning. Guess what? rice pudding tastes like...rice pudding. It was tasty. We spied
Lot 8
, that's
Chloe Dao
's shop. You may remember her as she was the winner of Project Runway Season Two. We checked that place out. It is a very nice shop with lots of cute dresses, but you really need an occasion to wear them. There was also a fabric shop that had the most outrageous prices ever. Almost double what you see in most places. Carla was absolutely flabbergasted. She just couldn't believe her eyes when she looked at the prices. We got the hell out of there lickety split.
Due to my shopping at The Guild, I needed to ship home my purchases. That would be one emerald green Anchor Hocking pitcher, 4 pyrex escargot plates, and a green, three-tiered tin. I also stuffed the pitcher full of Malabrigo Silk that I picked up over at Yarns 2 Ewe. Over in Rice Village we found a mail place to ship my packages. That place was a hoot. It was a hot mess inside. It was like walking into an honest to goodness sit-com. Shirley had her schtick and Marcelle was her straight man. Now Shirley worked there, but Marcelle just sat there in the middle of the store. It was pure entertainment. Carla and I were shoveling peanuts. Shirley had a system and told me she knew what she was doing. She was wearing slippers. She gave me a price without weighing the package. I paid her and we left laughing at the hijnks we just took part in. It was worth the price of admission. (The package did arrive and nothing was broken.)
We also tried a juice place and a Thai restaurant. We found a discount home fabric store that rocked. I cannot remember the name but I know Carla remembers. I bought Carla a vacuum for her new place as a housewarming. It's called the Boss and it is quite possibly the only thing that Mira is afraid of.
Speaking of Mira, her she is.
Playing fetch.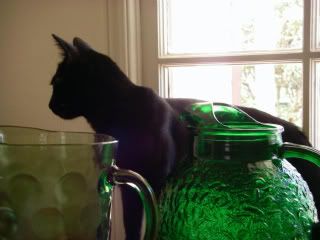 Checking out the goods.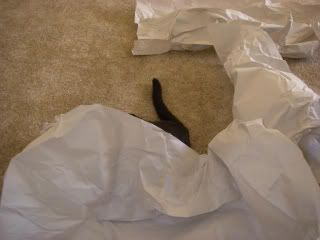 She has to be in the middle of everything.
She really is part Tasmanian Devil.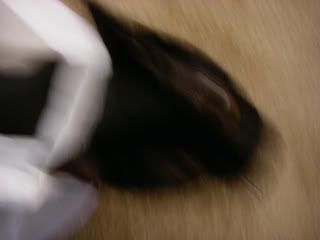 She is always in a state of pounce and laying in wait. Pure Crazy and we love her.
Now I realize I didn't take that many pictures when I was with Carla. We were running around and having fun. And I didn't even get a picture of us together. Bummer. Next time I will be a better fool with the camera and not just with Mira.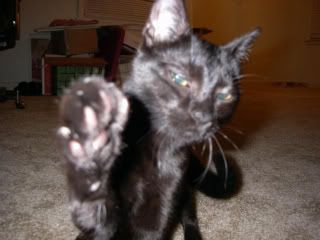 Talk to the paw, humans!
She really is a bad ass. Can you tell?