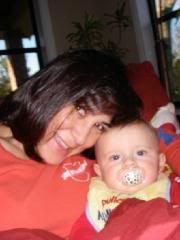 (Me & Cooks on my recent trip)
Today is my birthday.
There was early morning yoga class. I little bit of shopping. A mani/pedi in the afternoon. And a nice nap.
Everyone called to wish me a Happy Birthday.
My spinning wheel was my Christmas/birthday present but the hubby gave me more presents today. I got the first three books of the Sookie Stackhouse series. Fun reading...I love it. He also got me a messermeister knife roll and we are taking a knife skills class together in February! Woohoo...I am soooo Top Chef.
Right now I have to pack my knives and go...
get ready for our dinner date tonight.