The famous Zimmerman February Baby Sweater.
This is a darned tootin' cute sweater.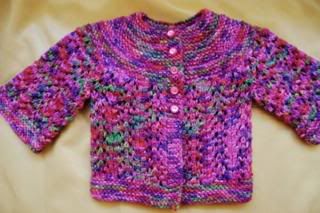 This one is knit in Artyarns Supermerino (2.5 skeins) in a color called Monet's Garden (501) on size 7 needles.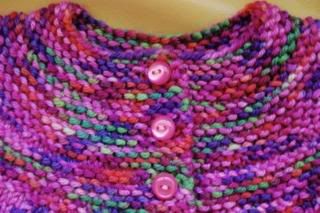 I love the buttons. They are from Michael Levine's, which I bought on one of many excursions with Carla. They look like high gloss Skittles. Just perfect hard candy buttons. They really make the sweater. Funny how buttons have the magic power to transform a garment. This sweater was originally made with Kiss in mind, when she was just a tadpole really. But now what is a baby going to do with a wool sweater in the sweltering heat of Texas? Going to have to play with some cool, light and breathable cotton for those cute god babies of mine.
Now the current rage is the February Lady Sweater. Everyone is casting on...
Ellen
&
Carla
& me too.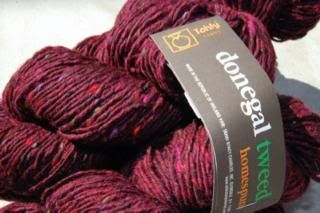 This is the yarn I will be using. It's Takhi Donegal Tweed in wine. I picked up 10 skeins in the Black Sheep Knittery blowout. I was contemplating what I was going to buy when Carla asked me what was in my stash. Holy Cow...a pile of tweedy delicious yarn at my disposal! I have wound the yarn into nice yarn cakes and I cast on last night at SnB. I am on the party train to February.