First Bounty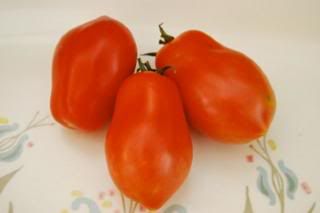 3 Roma tomatoes from the garden.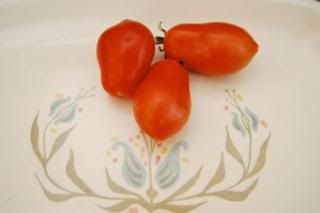 This is a Vernon Ware platter that I picked up for $3 at Out of the Closet, a local thrift store, last week. I love retro dishes with turquoise blue on them.
Tyler, my nephew, came over on Saturday. We went to the movies and saw Kung Fu Panda. I really enjoyed the story and the animation. It was one of the best animated movies I have seen in a long time. The movie was a great escape from the heat this weekend too! Later Ty and the hubby went into pizza production. They made whole wheat pizza dough & shredded up the mozzarella and parmesan and threw some pies. We used the fresh tomatoes from the garden and those pizzas were elevated to a whole new level. The tomatoes were sweet and juicy. It was like having candy on top of my pizza. Ty puts Ranch dressing on his pizza. Where do kids get this stuff? Joe found it profane. He likes to put on airs and forgets how funny kids are because they are kids!
Later we watched some TV with Bodhi.
On Sunday I had some sort of attack. Not as bad as
Carla's
attack, but an attack none the less. It started with some cramping during yoga class and then by the time I got home I was achy all over. After my hot shower I crawled under a blanket with the chills while the temperature soared outside. It was too hot to have the chills. I was under the weather as they say. I did manage to do some knitting on my February Lady Sweater.
But then I discovered that I dropped a stitch.
DANG! I was too sick to try and figure it out. I am pretty good at picking up the stitch when it's stockinette but not so good with the garter and I said phooey until later.
Feeling better today & ready to fix my stitch!