This past Sunday I picked up a couple of more herbs at the Farmer's Market. The herbs are a dollar a piece! This is a bargain considering how expensive herbs are at the grocery store. The pots I bought for the herbs were on the larger size so a trio of herbs for each pot was in order.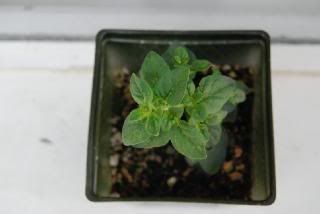 Oregano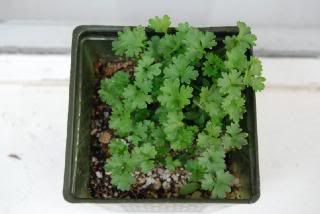 Parsley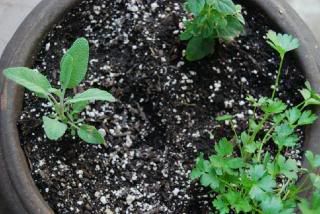 Sage, Oregano, & Parsley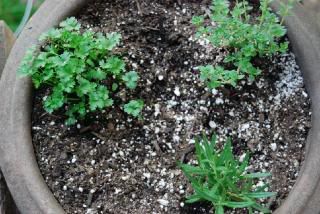 Parsley, Thyme, & Rosemary
These are happy herbs...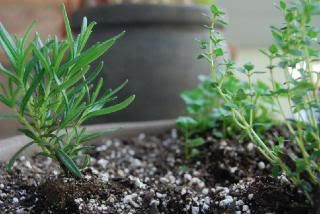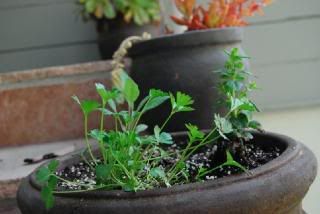 freed from their tiny, yet recyclable, plastic containers. The tomatoes got reigned in with tomato cages. They are growing and flowering and I am anxiously awaiting their bounty.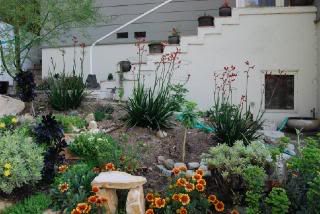 Here is the frontyard. I planted the euphorbia. Can you see it? I trimmed the Palo Verde and deheaded some of the flowers and pulled some weeds There are a bunch of baby ladybugs hanging out in the Jerusalem sage. So cute. They don't even have spots yet. The herb pots are on the steps and not to far from the front door for easy snipping at dinner time. I love playing in the dirt.
Here is my Earth Day knitting recommendation.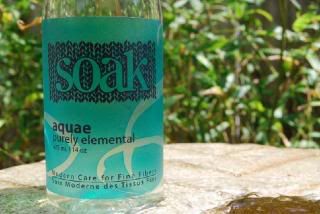 This is
Soak
. It is a "gently scented, biodegradable, phosphate-free, rinse free" wool wash. I recently purchased mine from
Unwind
.
It works great. You just need one capful to one gallon of water. You soak the wool garment for 15 minutes. There is no need for rinsing. Just gently squeeze out the garment. It leaves a very subtle and fresh scent and the wool very soft and pliable. There is fragrance free for those with sensitivities. You can use it on your lingerie and your dogs too! Biodegradable and Phosphate-free mean it's good for the environment. Phosphates contribute to water pollution by encouraging the growth of algae which can kill fish and other aquatic life. To get the dirt on Phosphates go
here
.
Things to do today.
Plant a tree or hug a tree or contemplate a majestic tree or a small delicate flower. Plant some herbs or take a walk around the block. Get outside for a moment. Bask in the sunlight. Feel gratitude for the food you eat and the firm ground you walk upon.
Thank you Mother Earth for your good care. May we do the same for you.