The hubby has been learning how to make bread. It all started with making pizza dough. He has since turned into quite a pizzaiolo aka pizza maker. From pizza dough it was a short leap to bread making. For his birthday last year he got this book from my mom.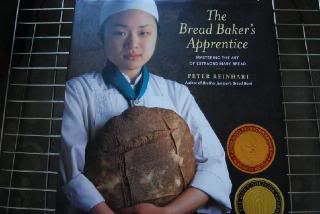 The Bread Baker's Apprentice: Mastering the Art of Extraordinary Bread
by
Peter Reinhart
. This book has a
James Beard
Cookbook of the Year Award as well as the
IACP
Book of the Year Award. Peter Reinhart is the mover and shaker in the artisanal bread movement in America. My favorite baguette/pizza dough recipe comes from this book. It is all time! The hubby has also made wheat bread and whole grain bread. I am a happy little taster for all the bread endeavors.
Last week I bought him a new book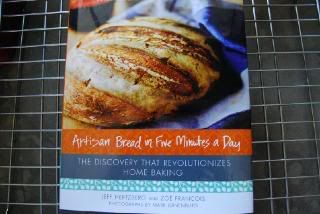 Artisan Bread in Five Minutes a Day: The Discovery that Revolutionizes Home Baking

by Jeff Hertzberg and Zoe Francois
. In this book you make a 5 quart bucket full of dough that sits in the fridge for up to 14 days. When you want bread you take a grapefruit size ball from the mother dough and let it sit out for 20 minutes to rise and then bake. BAM-O and you have fresh baked bread.
Here is Monday night's bread.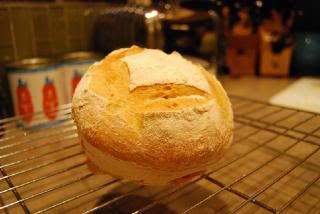 This was delicious with honey slathered all over it. It was also good the next day as a sandwich bread with grilled chicken breast (leftovers), arugula and gouda cheese.
Here is Today's bread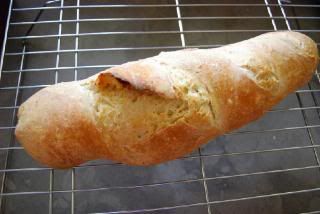 Today for lunch was black forest ham, swiss, and arugula.
The interesting thing about this dough is that the flavor ripens and develops the longer it is in the fridge. So you never really have the same loaf of bread. How great is that? The dough was really simple to make. The hubs didn't even bust out the KitchenAid mixer. Now he wants to take me to Paris so we can taste bread at famous boulangeries. Fresh bread and trips to boot. Now this is a good thing!