Tornado + DFW = 720 cancelled flights.
Yes I was supposed to fly off to see Cookie & Kiss, but had to turn around once I got to the airport. I will try again on Friday. Hopefully the weather permits travel. I am sad that I have to wait to meet Cookie & Kiss for another couple of days.
Recently I met another little sweet pea named Oliver.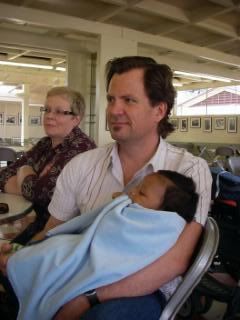 Oliver,
Frank
and Joan came out to introduce Oliver to all his SnB Aunties on a Saturday morning.
New babies mean new knit projects. To welcome Oliver to SnB I whipped up the EZ Ganomy Hat. It was a fast project and super cute on him. Here he is modeling and snacking on
Annika's
shoulder. Look at that face?! He is a cutey through and through. A-DOR-ABLE!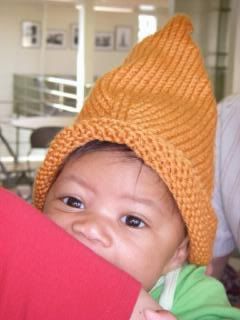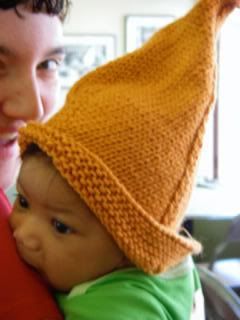 Yarn: Mission Falls 1824 Wool. 100% merino superwash.
Color: Orange
Book: Elizabeth's Zimmerman's Knitter's Almanac
Pattern: Ganomy Hat