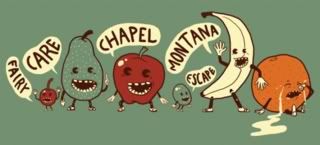 This past Tuesday I got the chance to go to American Idol. My good friend Annette is always on some email list regarding AI. We have gone to past result shows together, but this was our first singing show. I was very excited to see all the Idols perform.
In preparation for the show I made a poster. My poster was in response to a poster last week that stated, "Sanjaya is my Papaya."
My poster: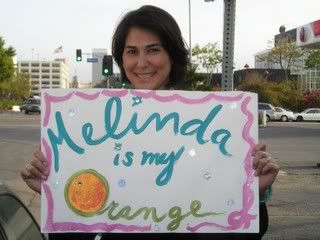 My logic: Nothing rhymes with orange and therefore Melinda is a one of a kind.
Alas, they did not show my poster on TV. And I whooped and hollered and acted a fool while holding my poster proudly over my head during the show. All to no avail. I looked carefully with the assistance of Tivo and my poster and shenanigans did not make the cut. Plus during the commercial breaks on the show the warm-up comedian dude goes around and reads all the posters and riffs about them. He came by me twice but did not mention my poster, to which I could only conclude that he didn't get it. I guess I am too, what? Literate or literary for the AI crowd? Or just Craaazy. I thought I was clever and the art work, well. The navel in the orange is a rhinestone and I mixed micro-glitter into my paint. It was sparkle poster craftiness.
Sadly, aside from my art work not being properly displayed or understood, Sanjaya the papaya was sent home on Wednesday. That Papaya is a cute boy. Totally cut out for Tiger Beat. He just needs one Da Doo Run Run Hit and he is destined for a VH1 "Where are They Now" show in twenty years. Good Luck Sanjaya. Hope to see you soon on the Disney channel.
The first image is from a nothing rhymes with orange t-shirt.
http://threadless.com/product/462/Nothing_Rhymes_With_Orange
Funny t-shirt.
Thanks Annette for taking to me Idol!