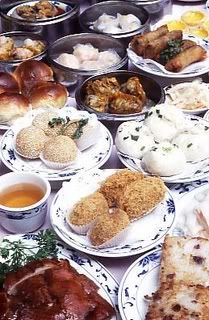 Chinatown
Empress Pavilion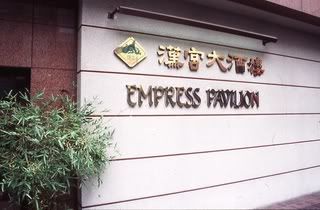 Dim Sum is all about anticipation and there is no other dining experience like the hustle and bustle of a Dim Sum restaurant. First there is the one hour wait. Oh so hungry and now have to wait an hour which is almost unbearable because the cardinal rule for eating dim sum is to arrive hungry. Finally, after being seated and the pouring of fragrant jasmine tea, you spy a rattling cart heading your way. The cart is piled high with hot, steaming tins filled with surprises wrapped in dough. The woman pulls off the tops to reveal little dumplings of joy and a chicken foot or two. Oh yes, chicken feet. Almost all those tins reveal yummy morsels for the eating. The tricky part about eating dim sum is knowing when to stop piling tins on your table. Inevitably, I eat one too many shrimp har gow and have to be rolled out of the restaurant, but not today.
Italia
Pazzo Gelato
Sunset Blvd. and Hyperion

The great thing about ice creams in general is that no matter how full you are there is room for ice cream. Ice cream melts. It takes no room.
Me: Italian vanilla and pistachio
Hubby: Italian vanilla and espresso pistachio
Perfetto!
Espana
Dinner at home
with friends Mitch & Joey
Tapas: The Little Dishes of Spain
by Penelope Casas came in the mail last week and was the inspiration for our little dinner.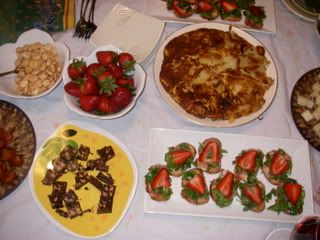 The Menu
Potato Tortilla
Asparagus with Brie
Toast with Ham, Arugula & Strawberry
Andouille sausage (not Spanish, but delicious)
Manchego
Olives
marcona almonds
Bread
Strawberries and Spanish truffle bar
Wines
Marques de la Concordia Crianza 2004 Rioja
Delicious and $10.99 at Whole Foods
Ponzi Tavola 2003 Pinot Noir
The Tavola 2005 Pinot was written up recently in the LA Times
Fabulous winery. Go to Oregon and drink up. It's worth every sip, I promise.
Clean up was a snap after three bottles of wine along with good music.