My first foray into fair isle has been sitting in the WIP pile for the last year. It was a Rowan pattern sweater by Lucinda Guy and not knit in the round. I thought it would be fast and easy because it was knit with Big Wool. I thought I would get to play with cables and learn fair isle and intarsia. But I was so wrong. Oh so wrong. For the life of me, I could not figure out how to strand and purl with the two strands of yarn. With frustration it got tossed into the pile of other woebegone projects.
This week I found myself needing a new project. I checked out the WIP pile. I even saw that sweater that gave me so much trouble. Phooey. I needed something fresh.
So a visit to
www.knitty.com
was in order. The first pattern to pop up was Center Square.
Okay, time to give the fair isle another shot.
Here's how it turned out.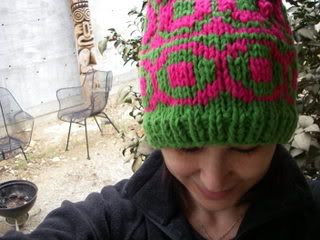 The yarn is Katia Flexi. The fair isle wasn't hard at all in the round. In fact it was down right fun. I think my stranding came out pretty uniform and it took me two days to knit it up. It's a success story. I may have another look at that dastardly sweater that taunts me from the bottom of the basket.